USC Kaufman in New York City
November 5-6, 2022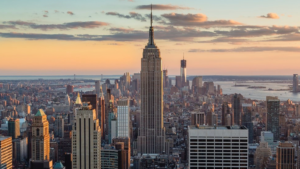 November 5 & 6, 2022
Paul Taylor Company
551 Grand Street
New York, New York 10002
Join us for USC Kaufman in New York City! This full-day program offers an inside look at USC Kaufman's program. The morning includes remarks from Dean Julia Ritter and a brief Q&A. Following, students take ballet, contemporary, and hip-hop master classes with faculty. Anne Aubert-Santelli, Associate Dean of Academic and Student Life, will be on hand to answer questions about the school's admission process and will host information sessions and panels for families.
There are two days but they are the same. Please only register for one!
Register for Saturday Nov 5, 2022
Register for Sunday Nov 6, 2022
Schedule of Events*:
All Guests:
9:00am – 9:30am: Check-in
9:30am –10:00am: Remarks from Dean Julia Ritter and Q&A
Students:
Families:
10:00am–10:45am | Chat with USC Kaufman Parents
11:00am–12:00pm | USC Kaufman BFA Information Session
12:15pm–1:00pm | USC Kaufman Alumni Panel
*Schedule subject to change.
View all events