A dance party sets the mood for the end of the semester
May 4, 2016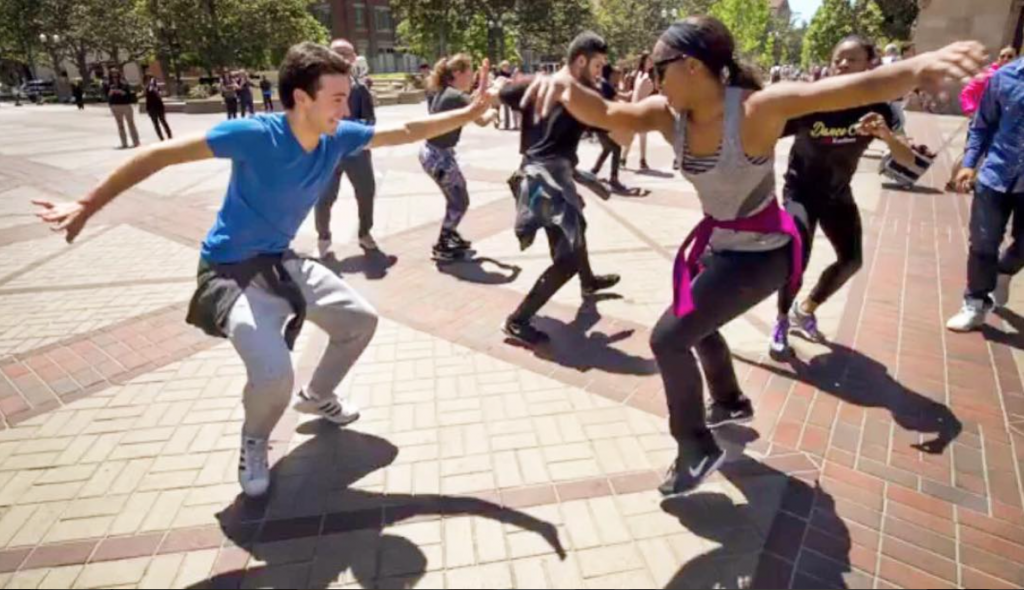 Dance-lovers from across USC joined an outdoor dance party hosted by USC Kaufman on April 25, enlivening the end of the semester with the spirit of Dance On! Week.
USC Thornton student Ellis Rovin, also known as DJ Café '84, embraced the sunny weather by providing beats ranging from old school hip-hop to twentieth century French chanson for the occasion.
At noon, USC Kaufman freshmen filled Hahn Plaza and surprised the audience with an upbeat choreographed routine danced to a multi-genre music mash-up. Dancers entered the plaza from all directions, managing to create clean arrangements while mixing in with the crowd of spectators.
"It was a great way to start the day," said graduate student Pauline Rodhain, who decided to join the party for a break from her final projects. "I didn't know that this event was happening and when I heard the party, I was curious. Their choreography was fantastic."
Although many spectators were shy, the energy of USC Kaufman's freshmen was contagious for the viewers who decided to join the party from time to time. By showing their moves, wearing Dance On! Week t-shirts, and snapping pictures, people from many different schools within the university ended the semester with music and movement.
---