Achinta S. McDaniel to debut "1947" at The Wallis
April 12, 2022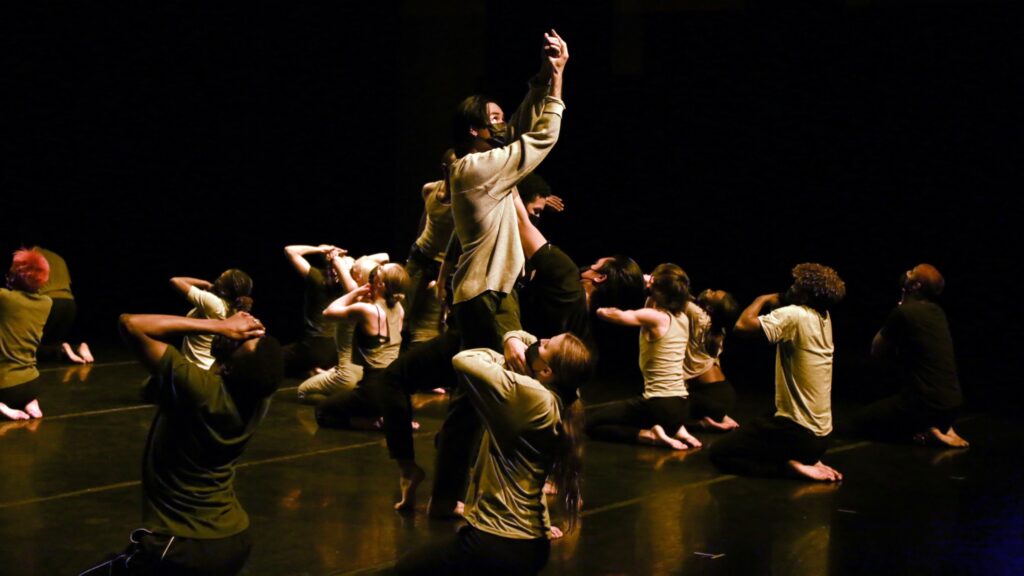 Achinta S. McDaniel, USC Glorya Kaufman School of Dance lecturer, considers her work as an Indian American choreographer to be contemporary. While her choreography employs some classical Indian elements, including Kathak, she views her work as a unique American creation. For the upcoming USC Kaufman debut at the Wallis Annenberg Center for the Performing Arts, McDaniel created a new piece titled 1947 with the BFA first and second year students.
In 2014, McDaniel choreographed a piece called Shine the Light, supported by the Doris Duke Foundation and the LA/Islam Project. It utilized research and interviews with McDaniel's family and other South Asians from around the globe. The piece serves as a precursor to 1947 and its main themes.
Revisiting South Asian history
McDaniel's piece draws from the colonial history of modern India and Pakistan. She explained that the year 1947 denotes when India gained independence from the British. Through the work, McDaniel strives to highlight the bloodshed that occurred after colonizers partitioned land based on religion, and its lasting effects.
"The British ruled over India with a horrible divide and conquer mentality that denigrated Indian culture from dance to music to philosophy," she said. "After hundreds of years, they were to finally leave India, gradually and over some time. Instead, they purposely rushed the departure to throw the country into chaos. On top of that, the British were instrumental in creating the Partition, dividing East Pakistan, Pakistan and India to separate Muslim, Hindu and Sikh neighbors who had been peaceably living as friends and family for generations. Suddenly, many people had to leave their homes overnight, and this created a frenzy of forced migration."
McDaniel noted that this history is not widely known, especially in the West. Through 1947, she aims to honor this reality and share it with students who have not engaged with this material before. McDaniel also wants to combat the monolithic representation of Indian and South Asian identity that exists in the West.
Honing new styles with the BFA students
McDaniel has been teaching this choreography to the BFA first and second year students since the beginning of the semester. During the first two, virtual weeks of rehearsals, she honed in on the basic movement vocabulary of Kathak footwork and hand gestures. McDaniel also taught Bollywood-style warm ups to emphasize the importance of personality and facial expressions in telling the story through dance.
"They're all incredible humans and dancers, and they come from such varying backgrounds," she said. "They're learning an entirely new movement that most of them have very little experience with. The students are handling it beautifully, but I'm sure it's been challenging for them, and I know they want to honor the movement and subject matter."
Throughout this process, McDaniel has been assisted by Jon Paul, who is the Associate Director at McDaniel's Blue13 Dance Company. The pair has been working together for more than 11 years. Paul said he appreciates her storytelling, ferocity and ability to push boundaries and keep dancers on their toes. He also detailed that working with the BFA students has been a great experience so far.
"I'm blown away by the talent that USC Kaufman is producing right now. The first and second years are so quick to pick things up and so eager to learn and ask the kinds of questions that I certainly was not asking when I was 18 or 19 years old," he said. "They have a deeper understanding of the work than a lot of people in my generation had when we were that age, so it's really refreshing to see that."
Dancer and audience takeaways
In addition, McDaniel explained that teaching this work in a university setting is important to balance expanding one's repertory with greater appreciation for learning diverse styles.
"This process is not just about me setting a piece on these beautiful dancers. It's about really learning a subject matter that is so wildly important to an entire population of humans that has been invisible," she said. "It's really important to me for the students to know about this, and to hear from diverse voices to understand the nuances found in contemporary dance."
McDaniel described 1947 as a mix of surprises in color, rhythm, emotion and power. She hopes audiences walk away from the piece feeling enlightened and will seek to educate themselves about South Asian history.
"I hope the audience takes away a real sense of shock and realization, and that they think to look up what partition means, and look into how vast and different Indian artists are. We are not one stereotypical thing," McDaniel said. "I hope after seeing this piece they want to learn more."
1947 will be performed at the USC Kaufman Debut at The Wallis, April 21-23, 2022. In addition to McDaniel's work, repertory includes choreography by Tessandra Chavez, Ohad Naharin, Justin Peck, Toyin Sogunro and Doug Varone. Buy tickets today!
USC Kaufman Artists in Residence are supported in part through generous funding from The Choi Family Artists in Residence Fund. Additional production support provided by a generous gift from Katherine and James Lau. This performance of Minus 16 is supported in part by Renae Williams Niles and Gregory Niles.
---
By Brigid Murphy