Achinta S. McDaniel
Lecturer
Bollywood, Dance Studies, Composition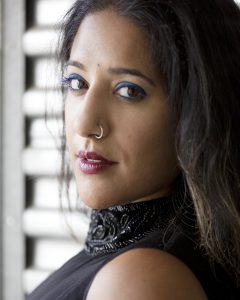 Achinta S. McDaniel, a pioneer of contemporary Indian dance in the United States, is the founder and artistic director of the critically acclaimed Blue13 Dance Company, with a recent world premiere presented by the prestigious Wallis Annenberg Center for the Performing Arts in Beverly Hills, CA. She choreographs for the screen as well, from music videos for DJ Snake and The Strokes to TV shows like "New Girl," "The Amazing Race," to commercials including Madden NFL and Heineken, and for Walt Disney World on both American coasts.
A prolific choreographer, performer and instructor, McDaniel's style draws from diverse techniques, including ballet, jazz, tap, modern, hip-hop, bhangra, Kathak and Bollywood, to create spectacular theatrical dance works, and to hold classes and lectures internationally. Known for her experimentation with international styles and for her passion to create diverse and truly American dance works, her work is highly dramatic and a true reflection of her upbringing: Eastern and Western, mysterious, rebellious and unconventional.
McDaniel was born in Queens and grew up studying dance in Cleveland, Ohio, where she got her start as a choreographer at Hathaway Brown School at the age of 14. Throughout school, she danced in ensembles at Cleveland State University and Case Western Reserve, thereafter graduating from New York University with a BA in Choreography, Dance, and Theatre.  She later studied classical Indian Kathak in Bangalore, India with guru Maya Rao.
In 1999, McDaniel returned to New York to found Blue13 and perform and teach across the region. In 2001, she relocated to Los Angeles and continued her career as a teaching artist and dance maker. She has expanded her work for over fifteen years, being among the first to introduce Bollywood dance to Americans, from studios to lecture halls to the silver screen, and creating the country's first professional contemporary Indian dance ensembles to tour on stages internationally. McDaniel proudly joined the faculty at Kaufman in 2016.