Admission Advice: Your Video Response
October 20, 2017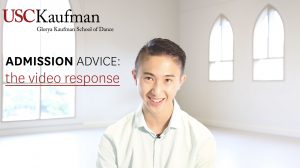 The video response may be the most unique part of our application. We ask you to address the following prompt in 30 to 60 seconds:
Along with receiving exceptional dance training at one of the world's leading private research universities, at USC Kaufman you join a community of individuals with shared values, such as respect, humility, accountability, integrity, diversity and individuality. What does community mean to you?
Why include this with our application? When asked by a prospective student what one quality (if she could pick only one) she hopes that USC Kaufman students will graduate with, Vice Dean Jodie Gates responded: "To have an informed opinion about dance, and to be able to articulate that opinion."
Throughout your time in our BFA program, you will be asked to engage in spirited debate with your fellow students, faculty and distinguished guests in many courses, including annual Colloquiums. At USC Kaufman, we want students not just to be seen, but also to be heard.
How can you communicate your ideas most effectively? Here are some tips to consider:
Be authentic. Don't try to memorize a script unless you have major acting chops. You'll want to think about your response ahead of time and then pretend as if you're having a conversation us. It's okay if your response isn't perfect. I often recommend that students do a few of takes, pick the best one, and call it a day.
Be specific. You might reflect on current communities you identify with or what being a part of the USC Kaufman family means. If it makes sense to do so, you might want to use personal anecdotes or examples. A professor once told me that I should ask myself both "why" and "why does this matter" when trying to express an idea.
Connect with the prompt on a personal level. Our hope is that your response is unique, not for the sake of being unique, but because something from the prompt resonates with you. You have an individual voice, so don't be afraid to use it.
Check your video. Make sure that you've edited your video down to one response before uploading it to your application. Let's just say that we've seen some pretty interesting bloopers over the years.
I know that this part of the application can seem daunting, but trust me when I say that it's one of our favorites. Each year, we are in awe about what the next generation of dance leaders has to say.
---
by Anne Aubert-Santelli, Director of Admission and Student Services