Student Blog: Life as a First-Year
November 15, 2022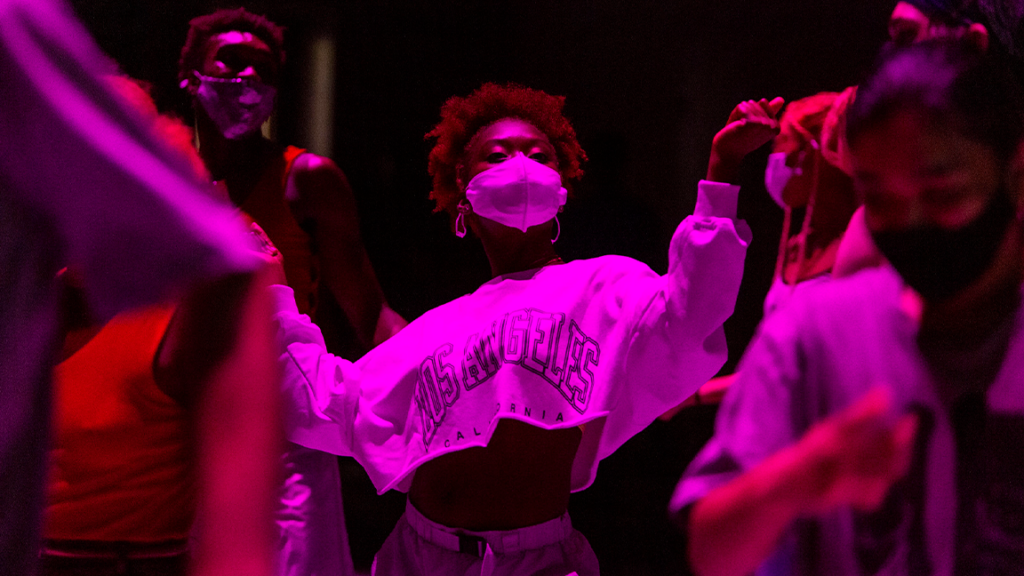 Attending any university for the first time fills you with a variety of emotions. You're eager to finally be in a new environment with individuals from all over, but you also carry a sense of fear from stepping into a new chapter of your life. I felt those exact emotions. I was finally at my dream school, ready to embark on my new journey as a USC student. But, I was highly anxious about starting something new.
Spending my first year at USC on Zoom had its ups and downs. It was challenging to build personable relationships through a screen, as well as mentally trying to stay engaged and present. But through it all, I had an amazing support system, created through the same screen that I thought was going to limit my experience as a student, artist and friend.
Coming to campus after a year of Zoom
Getting the news that I would be able to have the full college experience in person felt like a dream. I remember I could not sit still counting down the days until it was time for me to hop on the plane and step foot on campus at last. I thought about all the work I put in while during virtual school and how I would implement the same dedication once on campus.
When I finally arrived, every feeling of fear disappeared. Being from New York and transitioning across the country was a huge shift for me. I had never before been so far from my home and family, which was a tad frightening. But I knew this is where my journey would truly begin and I would be guided on the right path for my future. I knew I would be in a safe space to grow as an individual and artist.
Stepping foot into the USC Glorya Kaufman International Dance Center for the first time was breathtaking. I thought about all the growth and lessons that would take place in these studios and how this place would now be my home for the next 3 years. On the first day of classes, I was grateful to finally be with my cohort, in the same room as individuals who want to pursue and are hungry for the same dream as I am. I felt the dedication and commitment throughout the room that had been difficult to feel through a screen. I knew that this was going to be one of the best experiences I have had in my life.
The USC community
Of course, as a college student, you want to build connections and new relationships with others. I truly saw what it meant to be a part of the Trojan Family. Upperclassmen as well as alumni gave me beneficial advice and guidance on how I should approach my goals. I made friends within USC Kaufman and the university as a whole through school events and social gatherings. I had professors and faculty who cared deeply about my education and learning experience, and challenged me day-to-day to achieve and dream bigger than I already have. Having these relationships made me feel as if I had a second home at USC. I felt protected, guided, and genuinely cared for by individuals other than my family, which I was very grateful for.
USC Kaufman has provided the means for me to grow as a dancer and tend to my artistic endeavors. I have also been very appreciative of the academic excellence we have access to here at USC. Finally, being on campus, I have learned to find interest in studies other than dance, seeing how these other subjects can intertwine and exist with each other. Now I am minoring in entrepreneurship, which I never thought I would pursue during my college experience. Originally, I only focused on my journey as a dancer, but because of the curiosity and accessibility USC provides, I have tried new things. I am grateful for another door opening that can benefit me in the future.
Being a first-year student can be filled with lots of angst as you're stepping into this new phase of your life. Thankfully, I had a community to support and stand by me and loads of new information to help with my dreams for the future.
---
By Jada Vaughan (BFA '24)