Student Advice: When we were applicants
November 21, 2017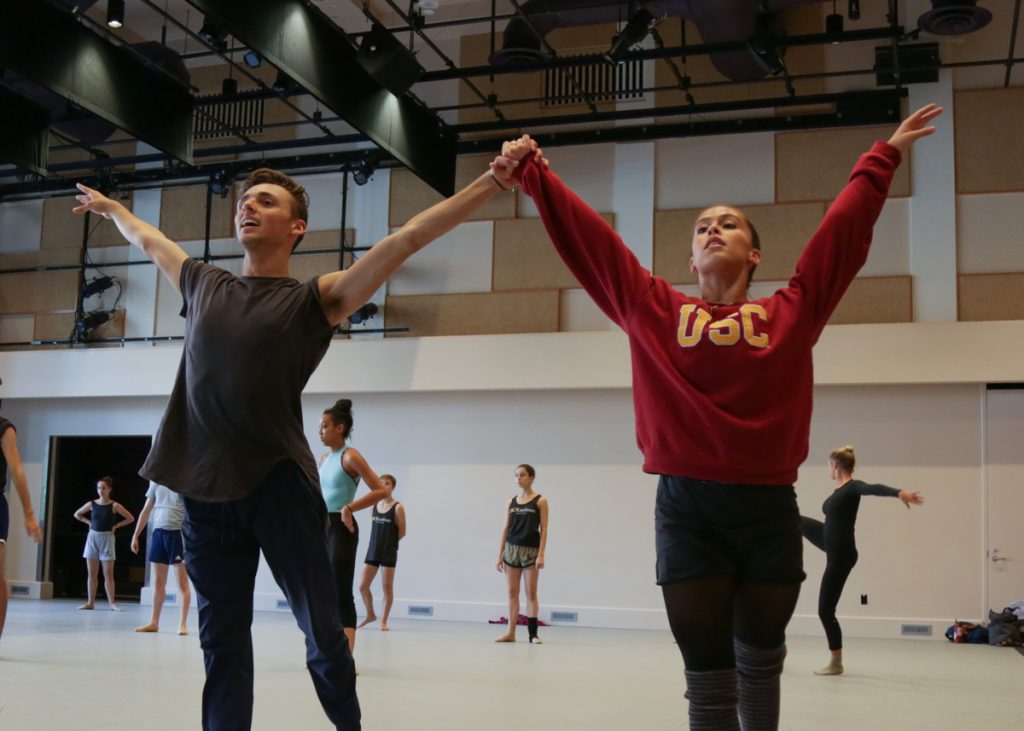 By Simrin Player and Matthew Perko
High school seniors and potential USC Kaufman applicants: we know there's a lot on your plate right now. When filling out college applications feels overwhelming, know that all of USC Kaufman's BFA students went through the same process, and they're here to help. Simrin and Matthew share their application stories below:
Thinking ahead to college
SP: It felt like such a long time ago that I was roaming the colorful halls of my high school as freshman, completely excited for the next four years because I'd been told a significant amount of times that "these are the best years of your life." Much to my chagrin, those high school years flew by so quickly, and I was a senior, forced to start thinking about my future plans. Applying for colleges was a bittersweet time in my life. I was about to embark on an unfamiliar territory–adulthood–and I was completely terrified about significant life changes. Like other applicants, I just kept hoping that I was going to be accepted into a university where I fit in.
MP: This time last year was a very stressful period for myself as I embarked on the college application process. I had applied to five different college dance programs, in hopes that I would find the right fit–a program that would help me become the type of artist I aspire to be. On a whim, I decided to attend an informational Discover USC event for applicants in New York City to gain insight on one of my potential choices. There, I had the opportunity to take a variety of master classes from the USC Kaufman faculty, ranging from ballet to modern and even popping and locking. I found myself walking out enlightened and curious to know more about this new and innovative program–I knew I wanted to be at Kaufman.
Applications and artistic choices
SP: With senior year comes the chaos of drafting Common Application essays, creating portfolios, and sending in applications. It can seem a bit overwhelming; however, to help my application process, I prioritized time-sensitive applications and efficiently managed my time. I felt that USC Kaufman's application allowed me to showcase my personality and passion for various dance styles, which ultimately made it an enjoyable process.
MP: I began filling out the university's Common Application supplement and compiling my dance portfolio of videos, photos and written responses. The process was extremely trying at times; I had to film solo excerpts and video responses over and over again. I questioned my artistic choices, especially in choosing which pieces of contrasting work I would present as solos, and whether my action photo was bold enough. I was so nervous knowing that I had to showcase my best self in order to receive a live audition. In the end, I decided to stop overthinking it and just submit my application (and just in time–two days before the deadline).
SP: Submitting my application was completely nerve-wracking, because I wanted to accurately reflect who I am as an artist and a student. However, I knew that it was ready for submission–several college counselors had reviewed my application to ensure that all aspects of the requirements were met. My best advice to applicants is to integrate your personality in your application, including the writing supplements, the Common Application essay, the video response, and dance selections.
MP: Post-submission, I felt both relieved and nervous, but was sure that I had demonstrated who I was as both a person and a dancer, which was all I could do. Fast forward to now, and I am here at USC Kaufman learning an abundance of new knowledge and living my dream. Applying to a school of USC's artistic and academic caliber can be quite intimidating. The best advice I can give applicants: be yourself and believe in yourself, and you could be here one day.