An Evening with Good Company: a senior project by Nina Gumbs
March 26, 2022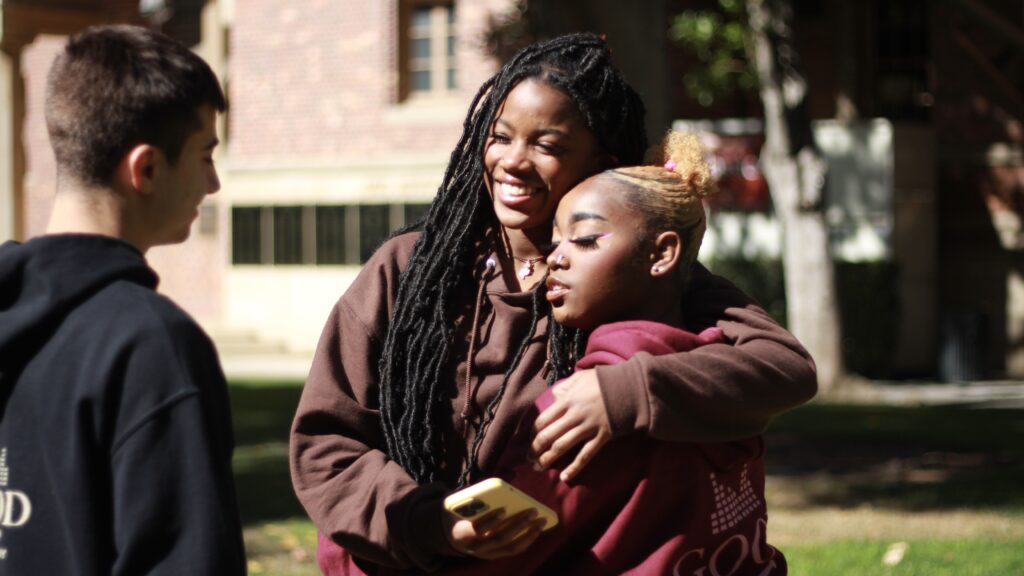 For her senior project, Nina Gumbs (BFA '22) is highlighting a company she founded in February 2021. Her company, Good Company Enterprises, focuses on building a better matrix for the dance industry, working with artists and professionals in Los Angeles. To feature the company, Gumbs is producing a show titled An Evening with Good Company. The show will include a short dance performance followed by a networking event.
Good Company Enterprises
Gumbs founded Good Company during the Covid-19 pandemic. According to Gumbs, she noticed growing concerns about making a living as a dancer, both in herself and her peers. As the pandemic closed down live shows, many industries, including dance and entertainment, suffered job losses.
"I felt like there were so many dancers and artists who couldn't catch their breath. I kept asking myself, 'am I going to be able to afford to live?' and unfortunately I kept answering 'no,'" Gumbs said. "I decided to try and understand the business model of the industry to understand why there has been this starving artist trope for generations."
Even before the pandemic, dancers have had to put up with difficult working conditions, said Gumbs.
"I was chatting with colleagues about differences in the dance and music industries, and I realized that a lot of the things that are considered not okay in other fields, dancers just take as part of the job," Gumbs said. "Part of it is knowing how the dance industry functions. If I don't know things like how to read my contract, it's hard for me to improve my outcomes. If I want better pay, I have to understand where the money is coming from."
Gumbs sought to learn more about the industry and, with Good Company, seeks to build a framework that will better serve artists.
"I realized that it wasn't just me having these thoughts. I want to help others through Good Company," Gumbs said.
An Evening with Good Company
For her senior project, Gumbs is producing a show titled An Evening with Good Company, to take place on May 1. She is inviting choreographers to present work on stage and facilitating a networking event after the show.
"I'm trying to invite people around LA who inspire me, and people from various industries. After the show, people can meet the choreographers and the dancers," Gumbs said. "It won't be just USC people. I will be inviting my agents and faculty members from USC, and asking them to invite anyone who they think might be interested in the show. It's about trying to build a bigger community of people that understand the vision of Good Company."
The planning of the show is still in process, but Gumbs has been hard at work since January. According to Gumbs, producing a show involves a lot of moving parts. She is focusing first on what needs the most time. Also, she is carefully considering the choreographers for the show, making sure that everyone involved aligns with the values of Good Company.
Good Company focuses on consultation, choreography and education. One of its values is fostering personal connections. This event intends to emphasize this human-to-human communication.
"I hope the audience takes away the idea that there is a next generation of dancers that aren't just dancers. They are true thinkers," Gumbs said. "I want people to know it's okay to spark up a conversation with someone not knowing who they are or what they can do for you and to just meet them at a human level."
Next steps
Good Company Enterprises recently celebrated their one-year anniversary, and is looking forward to doing more work for the industry.
"We will continue to do the work that we have been doing with Good Company," Gumbs said. "Building more connections, not just in the dancer realm but in the larger entertainment industry. Working with more artists. Continuing to pay attention to what this industry needs at the moment and being there for that."
Members of the Class of 2022 will give presentations about their senior projects April 6 – 8, 2022 at the Glorya Kaufman International Dance Center. Senior Projects are supported in part by The Collaborative Projects Fund and the generosity of The Cheng Family Foundation. Register today!
---
By Hannah Doerr