Anne's Admission Advice: Applying to USC Kaufman
June 1, 2020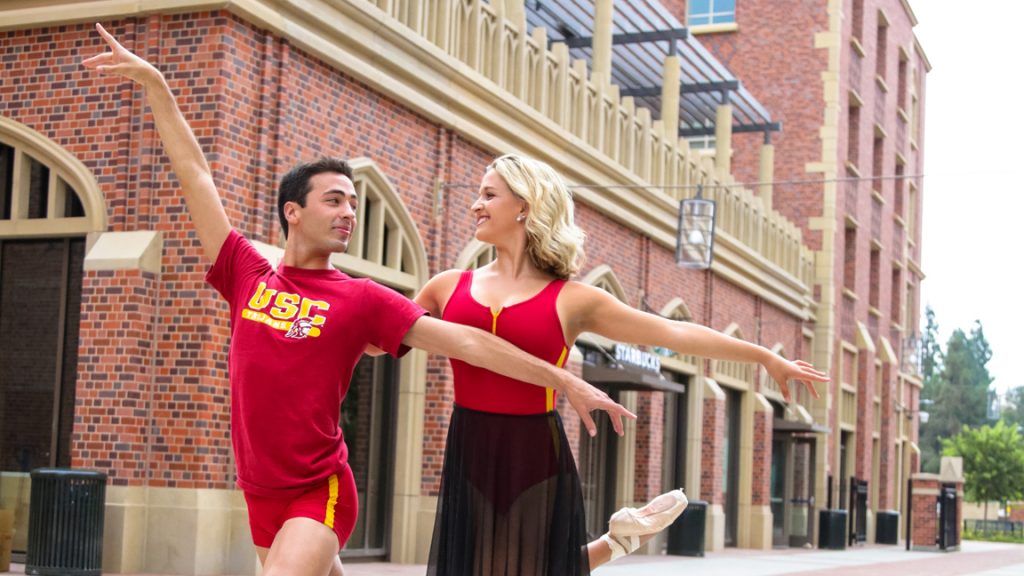 We're excited to meet the next group of candidates for admission to Fall 2021! COVID-19 has presented many unique challenges. One of them has been how to adapt our admission process, which usually includes a fun-filled live audition experience. We feel that there is too much uncertainty about holding live auditions, so we're changing things up this year.
Completing the USC Undergraduate Application
The first step in applying to USC Kaufman is completing the USC Undergraduate Application. This includes the Common Application and USC Writing Supplement (first-year applicants) or Program Materials (transfer applicants). Be sure to select "KSOD: Dance, B.F.A." as your intended major—which will generate a link to SlideRoom where you will begin your USC Kaufman Portfolio. Please note that current USC students applying to our program do not need to complete the USC Undergraduate Application.
Submitting your USC Kaufman Portfolio
You must upload a number of materials to SlideRoom as a part of the USC Kaufman Portfolio. This includes:
A headshot, which need not be professional
An action shot showcasing your favorite dance form
A one-page dance resume in our requested format
A 250-word written response to the prompt: The USC Glorya Kaufman School of Dance is uniquely positioned as a conservatory embedded within one of the world's leading private research universities. How will you take advantage of the many academic, artistic and social opportunities available at the university as a whole?
A 30- to 60-second video response to the prompt: The mission of the USC Glorya Kaufman School of Dance is to empower dance thought leaders through artistry and scholarship. How can art facilitate conversations about social issues?
Two 60-second solos
In addition, you will need to submit three six-minute videos in each of the following forms: Hip-Hop, Contemporary and Ballet. This means you'll be submitting six videos in all! Know that we'll provide you with video demonstrations from our faculty, so you know exactly what we're looking for you to submit for the six-minute videos. These faculty video demonstrations will be available online by September 1.
The USC Kaufman portfolio will also go live on September 1. In the meantime, however, feel free to work on your USC Undergraduate Application and to gather some of your USC Kaufman Portfolio Materials.
First-year applicants who would like to be considered for a USC Merit Scholarship must submit the USC Undergraduate Application and USC Kaufman Portfolio by December 1, 2020. While we encourage you to submit your materials as soon as they are ready, the final deadline for first-year applicants, transfer applicants and current USC students is January 15.
The second-round process
Our faculty committee will review all USC Kaufman Portfolios and invite a small number of finalists to our second round. All applicants will receive a notification about the second round in early February. Students not moving forward to the second round go back into the general application pool and receive full consideration for their second-choice majors.
For the second round, which will take place during the month of February, you will have a 10-15 minute interview with a faculty committee via Zoom. During this time, you will also be asked to do two minutes of improvisation to see how you respond creatively to a task within your chosen space. Before your Zoom interview, you will need to submit a final two-minute video solo, which can be a longer version of the solo you provided for your USC Kaufman Portfolio or a new solo. Details about submitting the solo and scheduling the interview will be provided to finalists upon notification.
Making admission decisions
After the second round, faculty will recommend students to the USC Office of Admission. There will be a back and forth between the Office of Admission and USC Kaufman about each candidate's talent, academic preparation and fit for our community. Students not recommended for the dance program go back into the general application pool and receive full consideration for their second-choice majors.
All applicants will receive a final decision by April 1, with scholarship information to follow in early April.
Final thoughts
We know that we're asking for a lot of content and that it will take a lot of time for you to compile all of these materials. But, we hope that you'll think of each component or part of the process as an opportunity to tell or show us who you are. We can't wait to meet you, even if it's virtually!
---
By Anne Aubert-Santelli, Assistant Dean of Admission and Student Services