Student Blog: Balanchine's Allegro Brillante
October 2, 2018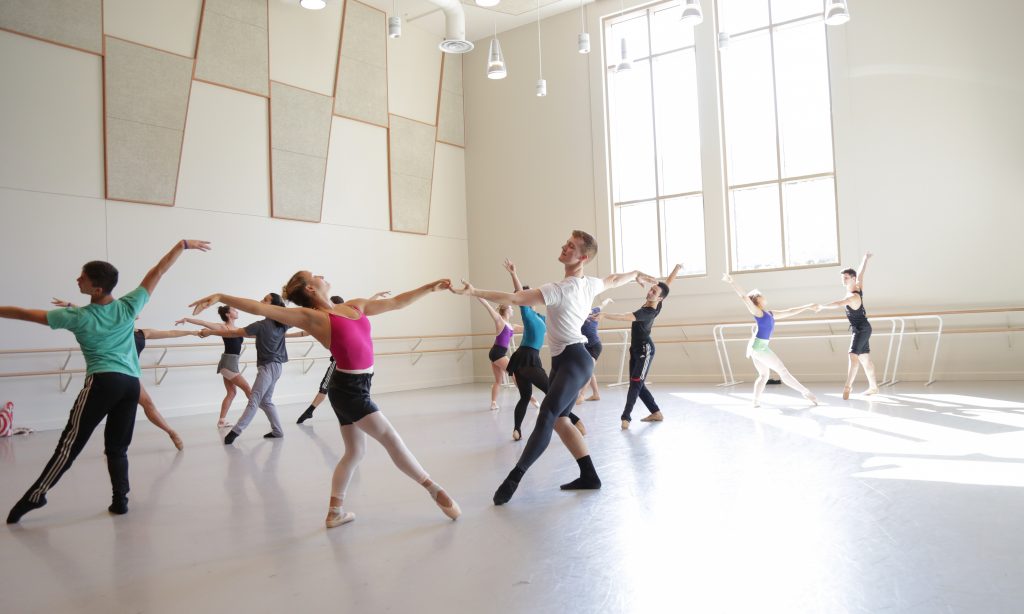 USC Kaufman BFA students learn one of George Balanchine's ballets from repetiteur Zippora Karz about once each semester. Since our sophomores, juniors and seniors are already well-acquainted with her process, we asked two BFA freshmen to write about their experience learning Allegro Brillante this month. Maria Rosenberg and Benjamin Peralta each give their take on the seminal Balanchine work, set to Tchaikovsky's Piano Concerto No. 3.
Diving into Balanchine choreography
MR: It is not every day you have the opportunity to learn original Balanchine repertoire from a professional who has worked with the legend himself. Thankfully, at USC Kaufman, this is yet another one of the remarkable pre-professional experiences accessible to BFA students. Working with Zippora is certainly a challenge, but it's one I am inspired to rise to. The environment created within our studio is beyond what I am used to as it mirrors a professional atmosphere. We learned a 15 minute-long classical ballet in four rehearsal blocks, featuring women en pointe, a pas de deux and a whole lot of classical partnering. Multiple dancers are learning the piece at once, making the studio quite crowded. Fortunately for me, I have beautiful classmates to learn from when we are flying through complex choreography. The entire experience is inspiring and pushes me to grow stronger within each rehearsal.
BP: Getting the chance to learn Balanchine's Allegro Brillante with Zippora Karz is such a humbling and inspiring experience. Her enthusiasm and passion for ballet is infectious. I have yet to leave rehearsal without the biggest smile on my face. I admire the fact that she treats us as though we are a professional company. Both Karz and the dancers have a mutual respect for one another that expedites the rehearsal process and allows us to be as efficient as possible – while also having lots of fun. We have multiple people learning each role to ensure that more than one cast will be stage-ready at any given time. I think it is extremely valuable to get accustomed to learning various parts in a dance, as this is the best method of preparation for the professional industry.
Zippora's rehearsal room
MR: Being a part of the rehearsals for Allegro Brillante is not all fun and games. Not only am I striving for a role in the corps, I am also surrounded by the most talented upperclassmen. I swear some of these students in the room with me are actually just visiting from New York City Ballet. As a freshman, the experience can be quite intimidating. The majority of the upperclassmen have worked with Zippora before and have a deeper understanding of her teaching style. I never trained explicitly in Balanchine styled ballet, so I am significantly learning with each rehearsal. The older, more experienced dancers create the best inspirations one could ask for. Zippora, and my fellow students who have truly embodied the style, are providing an immaculate level of exemplary artistry for which I can strive.
BP: Zippora Karz is one of those teachers that you just want to be around. Her optimism and her genuine care for each dancer is extremely evident. Whether it be asking how are bodies are feeling or telling us to take a break after a strenuous run, her actions make it clear that she truly wants us to succeed in all aspects of life. I admire her ability to clearly give direction while also embodying the artistry behind each movement in Allegro Brillante. It is always exciting to learn work by Balanchine. However, to learn his repertoire from one of his dancers, let alone the breathtaking Zippora Karz, is a dream come true. I cannot wait to continue this rehearsal process. And I look forward to applying everything that I have learned from Zippora into my daily life.