Barak Marshall on residency and revolt
October 12, 2018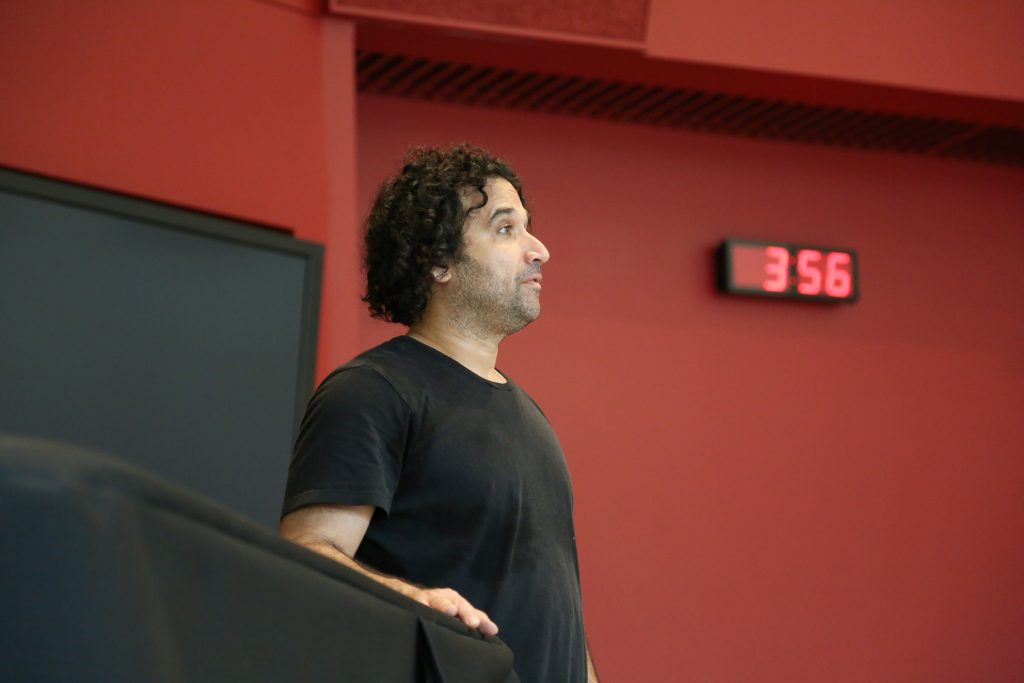 Last fall, Israeli choreographer Barak Marshall set excerpts of his full-length work "Monger" on USC Kaufman BFA students. This semester, he returns to teach the work again—this time, as an Artist in Residence. The opportunity to teach at USC Kaufman as a faculty member, he said, was too good to pass up. Another residency allows him the chance to dive deeper into work with the dancers, sharing not only the work but also its context, much of which comes from his own biography.
How dance found Marshall again
Marshall wasn't actually headed for a dance career. Though he grew up in the studio with his mother, principal dancer with Inbal Dance Theatre Company and UCLA professor Margalit Oved, he veered in the other direction. His trajectory included Harvard pre-law studies in social theory and philosophy. In a sudden turn of events, he joined his mother at the Inbal Dance Theatre Company in 1994. There, he discovered that choreography ran through his blood, and a determined non-dancer became a touring choreographer. Marshall has set works on companies worldwide. They include BODYTRAFFIC, Les Ballets Jazz de Montreal, and Batsheva Dance Company, where he was the first-ever house choreographer. It was his artistic partnership with the Suzanne Dellal Centre, however, that yielded his most acclaimed works: "Rooster," "Wonderland" and of course, "Monger".
"Monger" in a university context
"Monger" focuses on the upstairs-downstairs story of 10 servants and a cruel mistress. The servants beg, rebel, collude and more under the rule of the ruthless Mrs. Margaret. Certainly, many of Marshall's works are rooted in this kind of rebellion against social structures and other oppressive forces.
"In retrospect, most of my pieces deal, in one way or another, with the same theme: the struggle of the individual to realize his own freedom, self-worth, and control over his own destiny in the face of oppressive forces–whether they be societal or political," Marshall said.
This translates well to his goal for the students. He often tells them that he wants to see them onstage, rather than just the choreography. The subject that interests him most is their individuality, which is evident in Marshall's work. Bold gestures and Yemenite exclamations punctuate the narrative effectively. They allow the students to carry the story with their personalities. Texts are spoken into a microphone at the front of the stage. When workshopping, Barak's correction for the students is often, "louder; less hesitant."
"I really want to encourage these young dancers to develop their own voices and presence within the work," he said. "I want them to understand how truly valuable and essential they are. Not as technicians realizing a choreographer's vision, but as fully-fledged artists without whom a work cannot exist."
Time and trust in the studio
A residency affords more time and therefore more trust between Marshall and the students.
"I knew the residency would give me the opportunity to work even deeper with this incredible group of students. When you have your own company, you have the luxury of time to establish deep artistic relationships with your dancers. You can develop a common language and set of tools that create stronger ensemble work. This is what this residency is allowing me to do," Marshall said.
"Monger" is a multifaceted dance piece. Many of the dance theatre elements are unfamiliar to most students. Carrying a strong personality onstage also requires several skills in which Marshall coaches the dancers individually.
"We are exploring dance theatre, gestural movement, improvisation, physical theatre, dramaturgy, the dancer-as-actor, and other methods for strengthening the work we create together."
Building interdisciplinary and intercultural artists
Marshall noted that a place like USC Kaufman allows this growth to happen on an expedited timeline. The focus on research in the studio and inquisitive nature of the curriculum keep dancers on their toes. They are willing and able to absorb material rapidly.
"Every time I'm asked about USC Kaufman, I repeat the same thing. I've taught and set works throughout the world, but I have never seen a dance school quite like this. It's not just that every member of the faculty brings with them an encyclopedic knowledge and experience from careers at the top of their fields as creators or working with the masters," Marshall said. "But it is their shared commitment to creating dance artists who are truly interdisciplinary and intercultural and whose artistry will reflect the rich cultural tapestry of today's interconnected world."
Marshall has taught in universities, conservatories for years since his work took off at Inbal. At USC Kaufman, he sees something unique.
"And the students are beyond impressive. Because of social media and the internet, they arrive having already mastered so much and still have an insatiable curiosity and appetite to learn more. And this, along with their computer-like ability to quickly assimilate new material is a wonderful, yet humbling challenge for me both as a choreographer and as a teacher," he said. "It forces me to up my game for an exponentially more talented and hungry generation of dancers."
Pushing forward as artists
The New Movement mission aims to prepare students this way, and consequently USC Kaufman curriculum trains students in several styles daily. Its repertory is also expanding to include dance theater works like "Monger."
"I am blown away by this generation of dancers," Marshall said. "Not just by their technical proficiency, but by their versatility and virtuosity. The dancer as auteur. This is what I see here, and it is something that is so incredibly special. It is the model for where dance education must go."
---
By Celine Kiner