Brianna Mims uses movement to tell the story of Uncle Ronnie's Room
June 16, 2022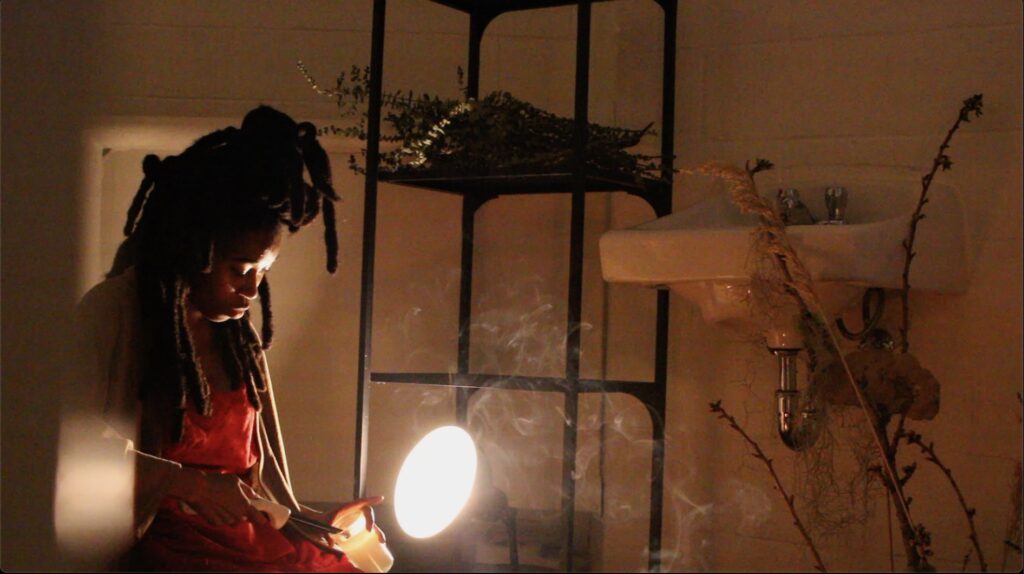 Brianna Mims (BFA '19) graduated as one of the members of the inaugural class of the USC Glorya Kaufman School of Dance. During her time at USC Kaufman, Mims began creating work addressing various social issues. Her senior project #jailbeddrop consisted of a dance performance and interactive installation, aimed at challenging our notions of crime and punishment. Since then, Mims has produced many other projects, some with dance performances and some without.
"I don't necessarily look at a thing like, 'I'm gonna use dance to do x, y and z.' I normally just have an idea or a vision," Mims said. "To get to the vision sometimes requires dance, sometimes not. But dance is just a way of life at this point, it's what I know how to do. So, when I'm interested in exploring something, a lot of times dance is utilized, but sometimes it's not necessary. It's always a journey."
Her most recent project, titled Uncle Ronnie's Room, tells the story of her uncle's illegal incarceration.
About Uncle Ronnie
According to Mims, Uncle Ronnie, who is Mims' actual uncle, has been in jail for more than 22 years for a crime he did not commit. A man already on death row gave names of his so-called accomplices, including Uncle Ronnie, in exchange for a lesser penalty, she explained. However, many of the men in this group of "accomplices" had receipt and testimonial evidence proving their innocence. As Mims explained, illegal sentencing occurred and Uncle Ronnie was given two life sentences plus 65 years.
According to Mims, her family has been raising money for legal fees and trying to hire a criminal defense attorney to reopen the case. They have so far been unsuccessful.
"I talked to my uncle one day, and he expressed that he didn't feel supported. He wanted his story shared," Mims said. "I thought, 'how can we share his story?' and the answer was through my art practice. My aunt said the direction needs to be around mobilizing the general public and the media around his story."
Mims hopes that with support from the general public and the media, the District Attorney will agree to reopen Uncle Ronnie's case.
A natural process
Uncle Ronnie's Room consists of four parts: a billboard campaign, an archival installation at Chuco's Justice Center, a docuseries and a performance by Mims.
"For Freedoms hit me up about being a part of their billboard campaign Another Justice: By Any Medium Necessary," Mims said. "I was just having these conversations with my aunt about mobilizing the media and the general public around his story. I thought, 'what would I put on a billboard?' And it would only make sense for it to be about Uncle Ronnie's childhood bedroom."
According to Mims, she had an idea of the images she wanted on the billboard but needed inspiration for the language. Mims flew home to Georgia to look through her grandma's storage pod and collect some of Uncle Ronnie's old things. While there, she started conversations with her grandmother about her great grandparents as she looked for ancestral guidance.
"I found some of the materials from my great grandparents, who were organizers during the Civil Rights era in Savannah, in the pod. I found a program that both my great grandpa and MLK spoke on. So I wanted to include that in the billboard," Mims said. "One of the images on the billboard is my great grandfather holding my uncle as a baby, with the program as a backdrop. And then I started playing off some of his last interviews in terms of the language that's on the billboard."
Mims explained that she asked about her grandmother's and her great grandparents' favorite songs. "I started listening to these old, Southern Black church songs, and they're getting into my body. So that's how movement started to come into play," Mims said.
Back in Los Angeles, Mims visited Chuco's Justice Center, an old juvenile detention center, looking to find a space for the installation of Uncle Ronnie's Room.
"When I got to Chuco's, I was looking for a room to recreate Uncle Ronnie's childhood bedroom," Mims said. "One cell has this long bench, and it reminded me of a pew. We'd just been having conversations about these church songs. And the first image I saw was, 'there was to be a choir sitting right there in the cell.' As I kept exploring, it made sense for me to move and embody these songs, and for an altar space to be created inside of that cell."
As Mims continued to find inspiration, the project continued to grow. The last piece, the docuseries, was a suggestion from her aunt. Mims reached out to fellow USC alum and filmmaker Tiana Williams to help create the docuseries.
The performance element
Mims' performance piece took place on May 22, 2022 at Chuco's Justice Center. The event began with audience members watching the first episode of the docuseries. Her great grandparents' favorite songs appeared in the episode, sung by her grandmother. The docuseries also included interviews with family members.
When the episode concluded, the audience walked into the cells. The choir sat on the benches in one of the cells and sang the song from the docuseries episode.
"Then there's a transition. There's all of these jars of different shells, rocks, stones and things from outside that my grandma collected in jars throughout her childrens' childhood," Mims said. "So, I go inside Uncle Ronnie's Room, the cell across, and I take these jars and make a line in between the cells, kind of like a barrier so I had room to dance, but it was really beautiful in the way that it worked."
Mims then danced to her great grandmother's favorite song. She brought the jars into the altar space and poured the items her grandmother had collected over a basket of prayers written by audience members.
"For me the altar space was really beautiful. There were projections in that space of Black church, my grandmother's interview and old church music. In a lot of African spiritual practices, this relationship to the natural world is so present," Mims said. "To have both of those things present and the layers that come with those conversations in the space was really beautiful."
Continuing collaboration
Mims spearheaded this project on her own, but had help from family members and collaborators.
"Minh Han Vu helped with every aspect in so many different ways," Mims said. "I actually met her at USC for my senior project, #jailbeddrop. We started working together then, and we've been working together ever since. It's just this magical, beautiful partnership. I'm grateful that that relationship has sustained and grown."
Mims also spent time learning about the legal aspects of Uncle Ronnie's case. Following the performance, Mims pivoted her focus to the legal side of the project. According to Mims, she met with a consultant to learn about racketeering, one of the charges brought against Uncle Ronnie. She also reached out to the lawyer of the trial's star witness, and together they hope to get Uncle Ronnie's case reopened.
Regarding what's next, Mims said she is looking to collaborate and bring more people into the story. She hopes to share the docuseries in different places, particularly the South. She also wants to do more activations in Los Angeles and continue raising awareness of Uncle Ronnie's story.
To learn more, visit the Uncle Ronnie's Room website. To get involved, check out the Calls to Action to help support Uncle Ronnie. You can also follow along on the project's Instagram, as well as Mims' Instagram.
---
By Hannah Doerr