Choreographer Christopher Roman on dance, aging and mentor William Forsythe
September 20, 2016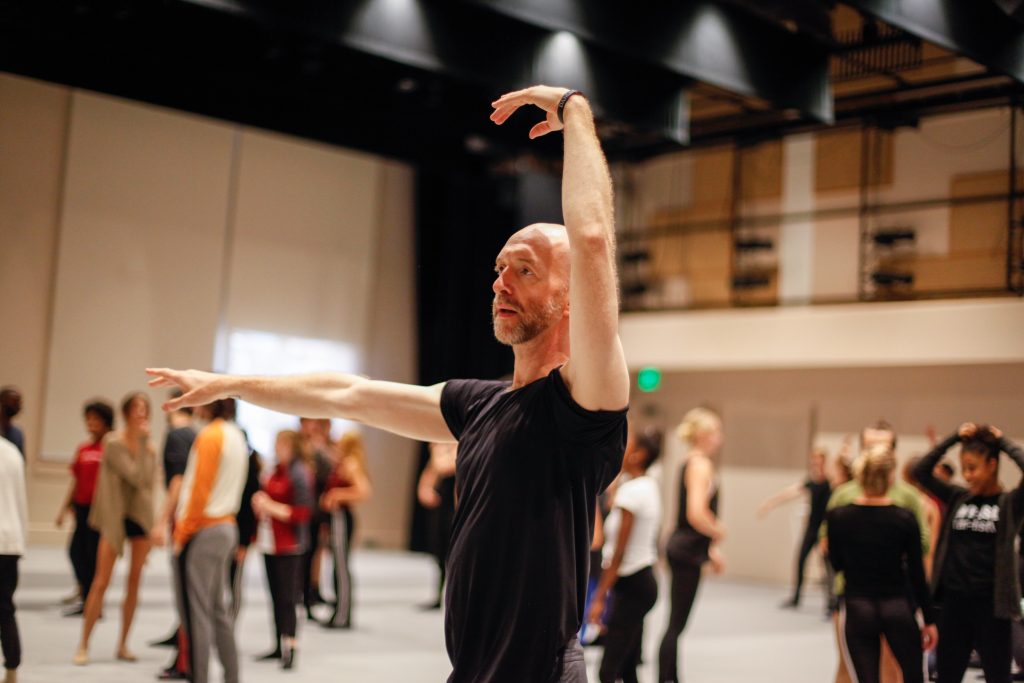 Decades of training and research in both ballet and contemporary dance have led American choreographer Christopher Roman to provide artistic guidance to dance companies across the globe, including Les Grands Ballets Canadiens, the Pacific Northwest Ballet and the Miami City Ballet. Roman, who was mentored by choreographer William Forsythe for nearly two decades, has created his own repertoire with his former personal company, 2+. He has also designed choreography in collaboration with more than a dozen prominent dance organizations, among which are The Russian Ballet Theater, The Pennsylvania Ballet and the Festival de Danse de Cannes.
Now the artistic director of Dance On Ensemble in Berlin, he commands a group of six dancers that develop repertory for performers over 40. The company also tackles the subject of dance and age through scientific research and community discussions on the political and cultural meaning of aging.
He is currently working with students at USC Kaufman as he assists Forsythe in his preparation for Focus Forsythe: The Choreographer's Process, part of the month-long celebration Fall for Forsythe, taking place across Los Angeles between September and October this year. While at USC Kaufman, Roman talked about dance, aging and working with his mentor.
Thoughts on dance and aging
Roman believes that age should be a non-issue in dance. He wants to provide an example of maturity as a natural aspect of the dance world, just as youth currently is.
"I personally think that the category of 'older dancers' is not important, but a better understanding and inclusion is still needed," said Roman. "With the highest level of integrity, rigor and dynamic, we are going to erase the image of dance being exclusive to young people."
Whereas musicians and singers often perform into their senior years, and actors transform their roles as they age, dancers face greater difficulties from their industry to stay in practice after turning 40.
"We encourage choreographers and dance institutions to incorporate the toolbox of knowledge, sharpness and pedigree that age brings," said the choreographer. "Youth is marked by the beautiful but urgent desire to blast all energy at once, but maturity provides a strategic mindset and deepness of thought to reflect on the creation of art, beyond merely executing movements."
Forsythe's mentorship
Roman's dance investigation has been characterized by almost 20 years of work next to Forsythe, who plays an integral role at USC Kaufman.
At the beginning of his ballet career, Roman focused on learning foundational technique and classic repertory. After more than a decade of disciplined training, the dancer felt the urgency to go from an interpretative role to a creative one.
The Ballet Frankfurt, led by Forsythe, boasted an array of innovative work that both amazed and intimidated Roman. He spent long hours training in neoclassical ballet technique for his audition for the company; however, it was at a party where Forsythe spotted the young dancer's talents. In 1998, Roman joined The Ballet Frankfurt, where he found the platform to pursue his wish for dance experimentation.
"The Ballet Frankfurt was a daily laboratory," said Roman. "Hours of playfulness and research ended up being structured into a consistent choreography."
Roman and Forsythe worked together on Forsythe's Bessie Award winning piece, You Made Me a Monster, as well as on the online projects Synchronous Objects and Motion Bank, which generate scientific data analysis of dance and movement. Roman's interpretation of the Forsythe Company's I don't believe in outer space won the FAUST Preis, Germany's prestigious theater award.
Roman now features some of Forsythe's latest works at his current company, Dance On Ensemble, which will premiere the piece Untitled Duo on Oct. 7, at the Theater im Pfalzbau in Ludwigshafen, Germany. Designed by Forsythe in collaboration with choreographer Jill Johnson and dancer Brit Rodemund, Untitled Duo has been developed at the USC Glorya Kaufman International Dance Center this fall.
Roman visits USC Kaufman
This September, USC Kaufman's BFA students have had firsthand experience with Roman, as he assists Forsythe's preparation of Focus Forsythe: The Choreographer's Process.
"It's very interesting to work with someone who has danced with Forsythe for so many years," said BFA sophomore Juan Posada. "You can see how their connection translates into the way they both teach and move."
Posada said he appreciates the multiple references that Forsythe and Roman bring into the studio. From their varied knowledge that extends from poetry to geometry, he thinks of the two artists as "curious intellectuals, who are structured, creative and mathematical."
In his visit to USC Kaufman, Roman has advised students to be rigorous and investigative. "If you're gonna call yourself a dancer, you need to have an understanding of what's been done before you," he said. "You're encouraged to create, but you need to be informed of the historical context of your creation."
---