Student Blog: Master Class with Brian Friedman
May 4, 2022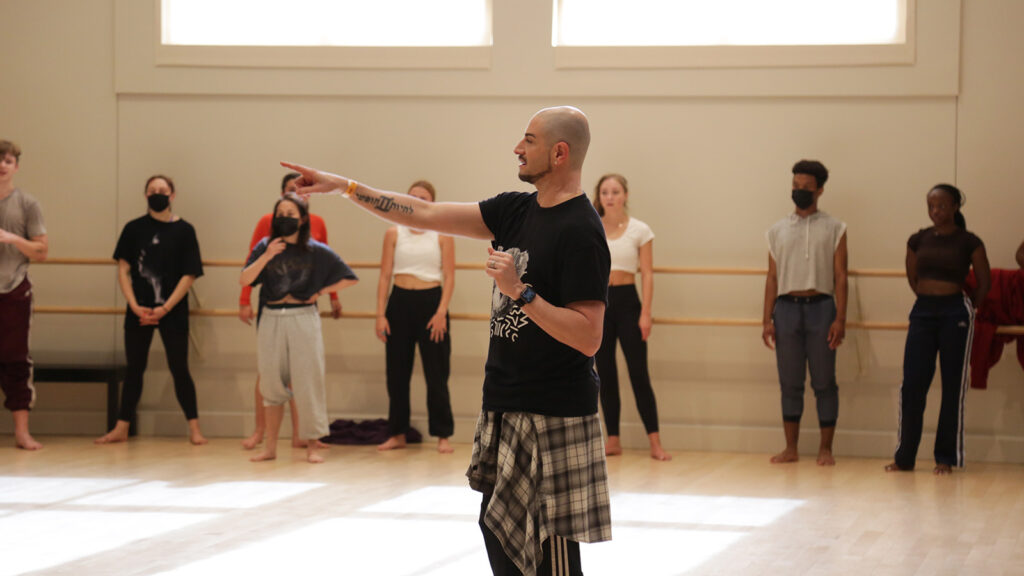 Last month, BFA students at the USC Glorya Kaufman School of Dance had the honor of taking a master class with the world-renowned dancer and choreographer Brian Friedman. This opportunity was a way for us to have hands-on experience in the commercial dance industry.
Friedman, one of the most in-demand choreographers, has worked with artists such as Britney Spears, Justin Bieber, Celine Dion, Janet Jackson, Prince, Mariah Carey, Michael Jackson, Beyoncé, Rihanna, Ciara, One Direction, Cher, Sam Smith, Christina Aguilera, Usher, TWICE, P!nK and more. He has also choreographed for multiple television shows. These include Dancing with The Stars, So You Think You Can Dance, The Tonight Show, Jimmy Kimmel, The Ellen Show, The Billboard Music Awards, MTV Video Music Awards and America's Got Talent.
The master class
To start the class, he gave us a warm-up series with the help of his assistant Marie Spieldenner. The warm-up focused on strength, stretching and conditioning, which got us ready for the rest of his class. He mentioned that his classes are usually fast-paced, so being engaged and active is of the utmost importance. He also mentioned that he values when dancers are able to grasp all the details of his choreography. His dancing is very intricate so whenever someone is able to catch those small details, that person stands out to him.
In addition, he talked about how working with the camera is a great skill to develop. If you want to work within the commercial dance industry, being able to play with the camera and being confident when someone is filming is extremely important.
According to Friedman, he was impressed with our ability to achieve clean lines while dancing. He also commended USC Kaufman for creating hybrid dancers who can work in every type of dance industry.
It was fun and challenging to take this master class, alongside all of the other dance technique courses we take at USC Kaufman. I look forward to seeing what other artists we'll get to work with during our time here!
Brian Friedman came to USC Kaufman at the invitation of Anita Mann who also underwrote the master classes. Anita herself is a renowned choreographer and dancer, and a member of the school's Board of Councilors.
---
By Diego Lopez (BFA '24)