Cypher Celebration
April 2, 2022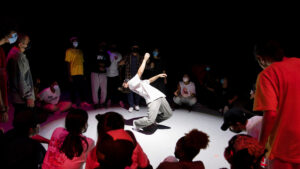 April 2, 2022 | 4:00 p.m.
Glorya Kaufman International Dance Center Courtyard
849 West 34th Street
Los Angeles, CA
Centering Hip-Hop and Black dance practices at USC Kaufman, Cypher Celebration will highlight the sophistication and creativity of real-time Improvisation/Freestyle in this live performance exchange of movement ideas and forms.
As a close to the two-day Cypher Summit featuring Ladies of Hip-Hop, the general public is welcome to attend this event that features an intergenerational ensemble of hip-hop artists and live music provided by USC Thornton musicians.
Please note: If you are registered for the two-day Cypher Summit, you do not need to register separately for this event.
View all events