Dance and fashion: a senior project by Londyn Alexander
April 12, 2021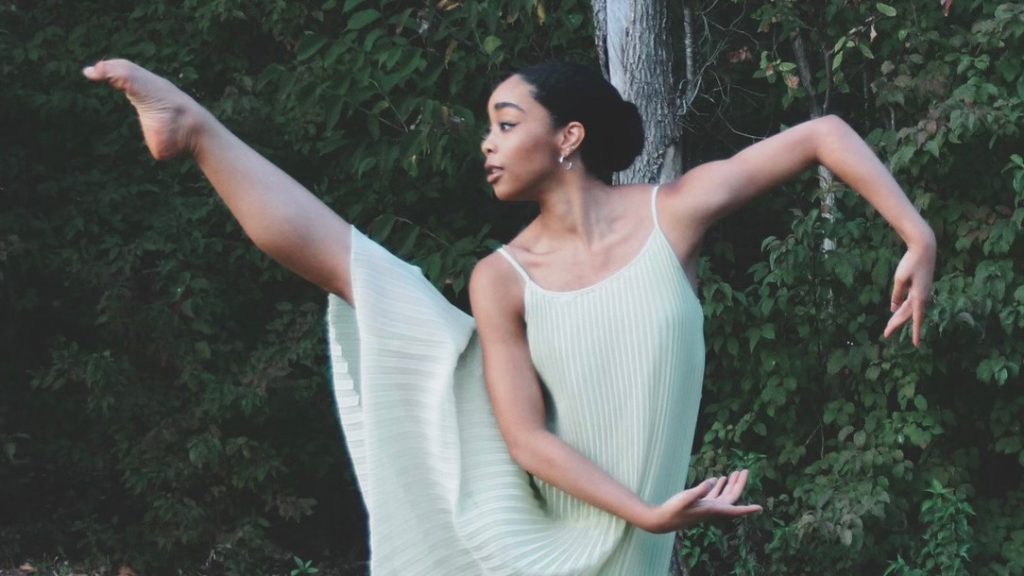 When deciding on the topic of her senior project, Londyn Alexander (BFA '21) chose to combine her two artistic passions: dance and fashion. She seeks to explore the relationship between the two complementary disciplines through an original short film and a fashion presentation in collaboration with two designers. The two pieces combined make up her project entitled At the Seams.
Creative inspiration
Alexander explained that her interest in fashion has been lifelong. After a career in dance, she envisions becoming an artistic director for a fashion house. In her currently untitled short film, she blends these aspirations with her BFA training. Alexander has been working with fashion designer Cynthia Diggs, whom she has known since childhood. With the film's inspiration in mind, Diggs used her specialty with tulle fabric to enhance the "Western glam" style of the piece.
"Dance allows us to ask deeper and more interesting questions about fashion," Alexander said. "The movement of dance provides new perspectives and gives a collection new life. I am really interested in continuing and elevating the narratives of designers. Dance allows me to do that and incorporate my own voice about why I think a collection is special."
Short film
While the film investigates the relationship between dance and fashion, it also provides a look at Alexander's experience as a Black woman growing up in the South. Originally from Dallas, Texas, she aims to tackle her differing experiences between her Southern upbringing and young adult life on the West Coast. The film examines similarities in these phases of life as well as obstacles and prejudices she has faced. Alexander plans to incorporate aspects of Black history, including stories about lesser known Black cowboys inspired by her connection to Texas.
"The film is split into three sections," Alexander said. "The first section focuses on the contrast between the South and Los Angeles. The second section focuses on the Western cowboys and the contributions of Black people in the South. Then, the third section of the film is a culmination of everything. It's about how the ideas I introduced earlier are embodied and how my existence as a person plays into the storyline."
Fashion presentation
In addition to her short film, Alexander is working on a fashion presentation in collaboration with designer Ashley Jung. A recent graduate of Parsons Paris: The New School for Design, Jung allowed Alexander to use a collection from her senior thesis project. Initially, Alexander reached out to Jung via Instagram, who was open and excited about the partnership, according to Alexander.
The presentation will take the form of a traditional fashion show. Alexander draws inspiration from various global fashion weeks and will offer a similar live-stream video experience. The event will also include an original choreographed piece by Alexander showcasing Jung's designs.
Main takeaway
In her final presentation, Alexander hopes to provide Black stories and history with more visibility through artistic means.
"I hope audiences take away that Black people have been doing the work," she said. "To sum it up, I hope that my project gives credit where credit is due."
Senior Project Presentations take place April 14 – 16, 2021 as part of the A/Part To/Gather: Spring 2021 online dance festival. Alexander will present her project April 16 at 3:00 p.m. PT. The Class of 2021 Senior Projects are supported in part by The Collaborative Projects Fund and the generosity of The Cheng Family Foundation.
---
By Brigid Murphy