Fall elective classes with Achinta S. McDaniel
July 23, 2020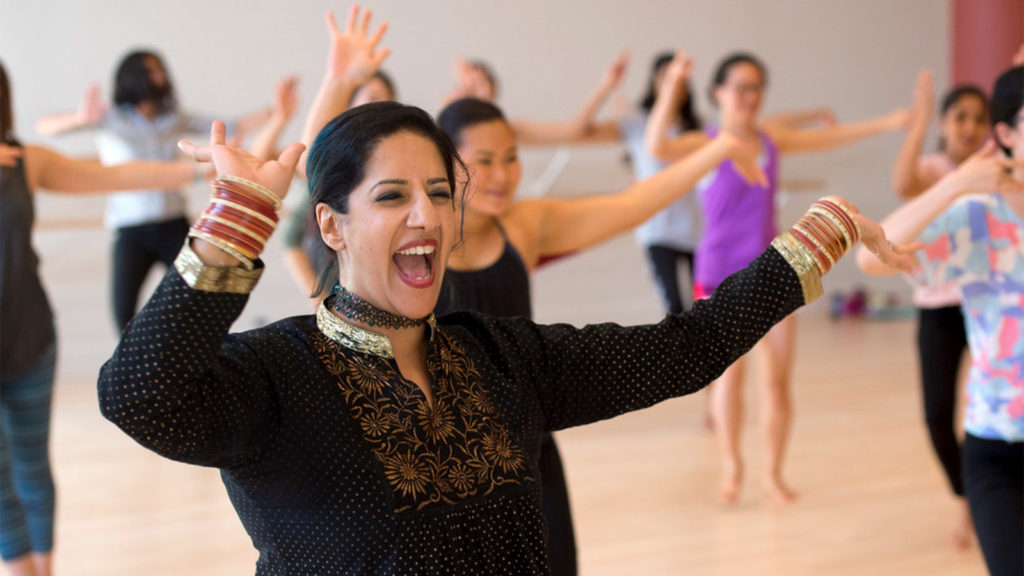 As part of the Welcome Experience, Achinta S. McDaniel will teach a free, introductory Bollywood class for USC students on Thursday, August 13 at 4:00 p.m. PDT. Experience what it's like to take this virtual class!
The reality of COVID-19 has granted ample time to explore hobbies both old and new. This fall, Achinta S. McDaniel, USC Glorya Kaufman School of Dance lecturer, will be teaching three dance elective courses for USC students looking for a creative outlet. These include Bollywood (DANC 187), Choreography for the Stage and Screen (DANC 175), and Kathak (DANC 499), a style new to USC Kaufman.
McDaniel has taught at USC Kaufman since 2016. She created the Bollywood dance class, which is open to all students at USC. This style of dance is inspired by the high-energy music from Indian films. It also fuses hip-hop, jazz, Latin and Middle-Eastern styles with traditional Indian folk dance. Students learn classic Bollywood technique, movement, musical rhythm, phrases and choreography.
The move to Zoom
Last semester, McDaniel had the unique opportunity to teach the Bollywood class over Zoom when USC moved to online learning. The Fall 2020 semester will follow in these footsteps. Dance classes for elective students will be held online, but McDaniel is not discouraged by this alternative. Interacting with the USC undergraduate students whom she calls "digital natives," McDaniel notes that dance can have a second home online.
"Before COVID-19, people were always checking out dance tutorials on YouTube and Instagram. I think this situation is just forcing us to dance in a unique and different way," McDaniel said. "It might seem daunting to be on Zoom and take classes, especially dance, online. But then we realized, 'Oh, wait, I've been doing that for fun.' All these courses are designed to move, dance, interact and learn something new."
Dance with digital natives
While some may feel apprehensive about taking a dance class online, McDaniel assures students that technology helps the world of dance grow stronger. Social media platforms like YouTube and TikTok promote enjoyment and connection through dance, and Zoom is not far off in this regard, she said.
"You are all digital natives. You know this technology so well. You're used to scrolling through the news on your phone and looking at videos and learning dances," McDaniel said. "On Zoom, we get to give you feedback in real time, have this enjoyment and be together in this new way."
McDaniel sees online class not as a barrier to creative experiences, but as an evolving and increasingly interconnected medium.
"I think it's an exciting challenge," McDaniel said. "I would urge students to think of it as an opportunity we can take advantage of, instead of thinking, 'I have to do this because of COVID-19.' This is a chance to learn something new and to find new avenues for creative expression, release and catharsis."
Introduction to Kathak
McDaniel's new elective course, Kathak, will debut this fall over Zoom. Kathak is one of eight classical Indian dance styles, the only one originating from northern India. Rhythmic footwork, storytelling and interplay between music, drama and dance, define this style, according to McDaniel.
"Kathak is rooted in storytelling," McDaniel said. Students are going to learn the footwork, the vocabulary and the recitation of those things. It's an exciting and challenging rhythmic journey. Expressions, hand gestures, footwork and facial expressions will shape this introductory course."
Flourishing in virtual electives
At the end of each semester, the elective dance classes culminate with a performance called the Elective Experience. This past spring, McDaniel directed its first virtual rendition. She explained that in her class, each student had a solo moment on screen before the entire class performed together.
"The first student would dance the first two eight counts and then the second student would go. They knew that was coming, but they were surprised to watch each other. That was part of the performance," McDaniel said. "The virtual show was another really cool way for them to dance together. It was amazing to have around 100 people in the Zoom room clapping and cheering for each other."
Reflecting on the spring semester and looking toward the fall, McDaniel does not see online class as a hurdle for creativity.
"You give yourself a boundary, and you can still flourish so much," McDaniel said. "This barrier of COVID-19 is not a barrier at all. It is a time that we can think about unique ways to get the dance experience."
---
By Brigid Murphy