Experience USC Kaufman
November 14, 2020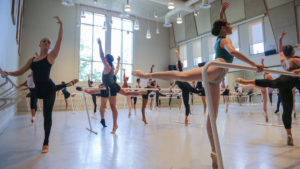 November 14, 2020 | 9:00 a.m. – 4:00 p.m. PT
Are you a prospective student interested in pursuing a BFA in Dance? Join us for this full-day online event featuring faculty master classes, an information session and a student panel. The schedule is as follows*:
9:00 a.m. – 10:15 a.m. PT | Ballet with Fiona Lummis
10:30 a.m. – 11:45 a.m. PT | Improvisation with Thomas McManus
12:00 p.m. – 1:15 p.m. PT | Hip-hop with Tiffany Bong
3:00 p.m. – 4:00 p.m. PT | Information Session and Student Panel
*Students may attend some or all parts of this event. Individuals with disabilities who need accommodations to attend this event may contact Anne Aubert-Santelli at aubertsa@usc.edu. It is requested that individuals requiring accommodations or auxiliary aids such as sign language interpreters and alternative format materials notify us at least 7 days prior to the event. Every reasonable effort will be made to provide reasonable accommodations in an effective and timely manner.
View all events