Fall for Forysthe – Focus Forsythe: the Choreographer's Process
September 29-30, 2016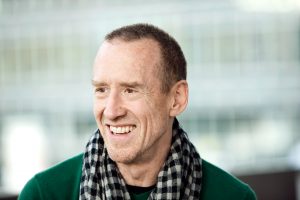 "As a choreographer, you are a teacher, and what I love is the teaching part of choreography . . . That's the enjoyable thing: seeing people have these little successes every day."
—William Forsythe
From his genre-defining ballets to his cross-medium works that extend beyond the stage, choreographer William Forsythe has been pushing dance forward for almost half a century. He was resident choreographer of the Stuttgart Ballet in the 1970s, director of Ballet Frankfurt from 1984 to 2004, and leader of his own company, The Forsythe Company, from 2005 to 2015. His dances are prominently featured in the repertoire of almost every major ballet company in the world, and his enormous contribution to contemporary dance has been recognized with the title of Commandeur des Arts et des Lettres, conferred by the government of France; multiple Bessie and Olivier awards; the German Distinguished Service Cross; the Golden Lion of the Venice Biennale; and the American Dance Festival Award for Lifetime Achievement, among many other honors. Now, for the first time since he joined the faculty at the USC Glorya Kaufman School of Dance last year, Forsythe will invite the USC community into his creative practice with a very special event combining performance and discussion.
Students from the USC Glorya Kaufman School of Dance will perform one of Forsythe's newest works. Following the performance, Jodie Gates, vice dean and director of the Kaufman School, will moderate a conversation with Forsythe about the creative motivations and practices that fuel his prolific body of work. Also joining the conversation will be Forsythe's longtime collaborators Jill Johnson, dance director at Harvard University, and Christopher Roman, artistic director of DANCE ON ENSEMBLE.
"Focus Forsythe" will be presented four times to allow for maximum attendance.
RSVP and find more information here.
View all events