Student Blog: Freshmen's first week with William Forsythe
September 18, 2019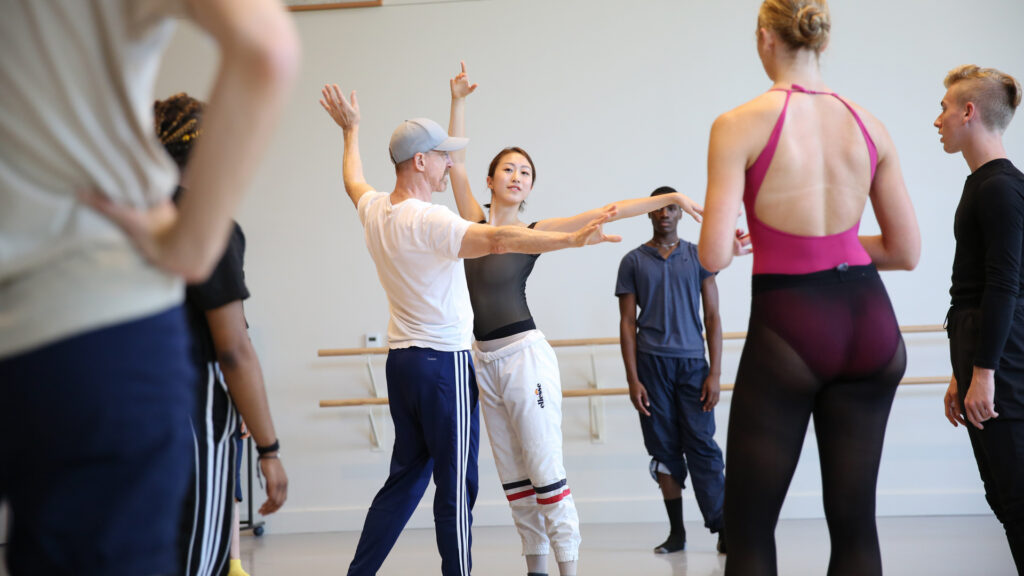 My first day of freshman year was a staggering mix of nerves and excitement. We were told we would have class with Professor William Forsythe, the legendary choreographer I had been dreaming of studying with since before College Commitment Day. As you can imagine, I was extremely anxious. Fast forward a few hours. Every member of the Class of 2023 left the studios that night in awe of the ways he had just blown our minds with his approach to ballet, choreography and improvisation.
William Forsythe's calculated approach
I remember learning differential equations in high school math classes. I always hoped that was the last I would see of them. Lo and behold, I'm in my first week of my BFA in Dance and the incredible William Forsythe is teaching me differential equations – in dance class! By representing movement patterns as written equations, he embedded the movement in my mind in a way I'd never experienced before. It was almost subconscious. His approach to teaching is often a calculated and deliberate series of exercises. These exercises lead us to identify and explore new pathways to follow, and qualities to embody. It is not an easy process. It can be frustrating as our minds work to retain and execute the choreography or exercise he is teaching us. Still, we must take risks, maintain our technique and stay within the limitations of the task.
Words of wisdom
"You're never at a loss, you just haven't looked in the right place."
Professor Forsythe spoke these words during our first week of class. I have a feeling I won't forget them any time soon. He is a master at helping us overcome the challenges we face in the studio. He is constantly encouraging us to tackle them from all angles and previously unimaginable points of view. And while he always pushes us to be our best, Professor Forsythe knows there is never a way to be absolutely perfect at the exercises or choreography given. That is part of what makes working with him so special. We are constantly working on how to become better artists. There is no top floor. There is no point at which a dancer has learned everything there is to learn.
"You have to be enthralled with the idea of a curious mind," he said. More words of wisdom I will hang on to for life.
A new point of view
I've been told that working with Professor Forsythe will fundamentally change the way I look at executing choreography. The semester has only just started, and I already know that's true. In studying with him, I am realizing more clearly that dance is so much more than learning steps and executing them. It is a constant search to find new approaches to movement that will allow the audience to see something happen in a way they don't expect.
Beyond his remarkable instruction and vision, Professor Forsythe treats us like professionals. Professor Forsythe works individually with every one of us to make sure that what we are doing is right for our bodies. This makes me feel incredibly safe and supported as an artist. He encourages us to look around the room and use our classmates as a valuable resource to gain more knowledge about movement. He creates an open, supportive community in the studio. This has allowed our freshman class to create a close bond from Day One. The sense of community at USC Kaufman cannot be understated. I have never felt so at home and so appreciated, yet challenged by my peers and professors.
Professor Forsythe generously shares his creative power and brilliant artistry with each student during our time in the studio with him. I am honored to have the opportunity to soak up all of the knowledge that he shares so generously.
---
By Ava Noble