Ava Noble (she/her)
Dallas, TX
BFA Class of 2023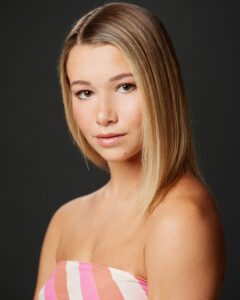 Where did you train?
Throughout high school, I trained with Geralyn Del Corso Garner, The Dallas Conservatory, and at Booker T. Washington High School for the Performing and Visual Arts.
What inspires you?
I am constantly inspired by people who are extremely creative and passionate about what they do. Learning about different cultures influences my choreographic process and inspires me to grow personally as well. My family and friends are the most supportive, kind, and hard-working people in my life, and I admire their determination daily. Their collective work ethics inspire me. Collaborating with my mentors and classmates influences my artistry in the most profound way.
Describe yourself in three words.
Motivated, curious, kind.
Tell us a fun fact about you.
I have a pet pig named Sandy at home. She was supposed to be a micro-mini teacup pig, but now she is over 100 pounds!
What does it mean to be a part of USC Kaufman?
Being a part of USC Kaufman means being a part of a family. It means being part of a new movement that is innovative and multifaceted. It is an artist's dream to be in this environment where you can work with world-class choreographers and educators that support every single style and aspect of dance. To me, the family environment allows every student to take risks and explore their artistry in such an accepting space, and I am forever grateful for this opportunity.