Student Blog: Orsolina 28's Inaugural Forsythe/Pite Intensive
August 7, 2019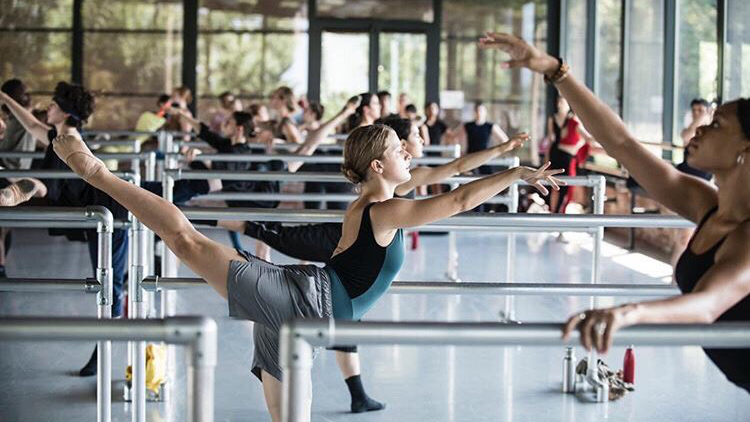 Orsolina 28 is a new mecca for dance, located just outside the small town of Moncalvo in Northern Italy. This summer, Orsolina 28 hosted their inaugural two-week Forsythe/Pite Intensive.
Bringing together the incredible methodologies and repertory of William Forsythe and Crystal Pite, coupled with world-class faculty, and amazing dancers from around the globe, all set in the beautiful Italian countryside, this obviously made for an incredible intensive for the almost 60 dancers attending the program– 18 of whom were Kaufman dancers.
Forsythe/Pite methodologies and repertory
Most mornings we took a ballet class, taught by either New York City Ballet principal dancer Teresa Reichlen, or Lénaïg Guegan— a former dancer with English National Ballet, the Miami City Ballet, the Zurich Opera Ballet and the Grands Ballets Canadiens.
On alternate mornings, we had a contemporary/improvisation class taught by one of the Forsythe/Pite Artists. These classes were followed by workshops focusing on the methodologies and processes of either Forsythe or Pite. We focused on Forsythe's improvisation technologies, as well as the improvisation Pite uses with her artists in order to generate new material for her company.
We then had rehearsals where we learned iconic repertory, including excerpts from William Forsythe's Impressing the Czar and Eidos:Telos, as well as Crystal Pite's Season's Cannon and The Tempest Replica.
Learning from exceptional Forsythe/Pite artists
The opportunity to work with artists who collaborated so closely with two of the most iconic choreographers in the dance world today was an amazing way into the works of these masters. Our teachers included:
Being able to access Forsythe/Pite through the eyes of these incredible artists gave us an unrivaled inside look into their seminal work.
An idyllic setting and emerging dance destination
In addition to immersing ourselves in this amazing artistic realm, being surrounded by the Italian countryside provided the perfect setting. The three dance studios are situated on the estate looking out over the Orsolina vineyard. Each class we took was enhanced by an idyllic view.
We slept in yurts amongst the trees, and ate fresh dinners sourced from the Orsolina organic vegetable garden and local farms. We also took a horticulture class, in which we learned about Orsolina's vegetable garden and how the food we were eating was being grown.
After dinner, many nights ended with a dance party down by the yurts, with disco balls suspended from the branches of the overhanging trees. All these aspects played an essential role in creating a truly holistic and immersive experience.
Orsolina is indeed an emerging destination for dance. There is a new performance stage being built, due to be completed by next summer, and we were fortunate enough to be the first to perform on it. With a new studio and greenhouse also in the works, Orsolina continues to grow, ensuring its light will continue to shine brightly into the future.
Making memories with USC Kaufman family
To have shared this amazing time in such a special place with so many fellow USC Kaufman dancers– representing every class, from the Class of 2019 to the Class of 2023– created communal memories that will inform our dancing into the years to come. I look forward to bringing these experiences back with me to campus and sharing them when we all return later this month.
---
By India Dobbie