Hip Hop 50: A Birthday Party for Hip Hop
September 30, 2023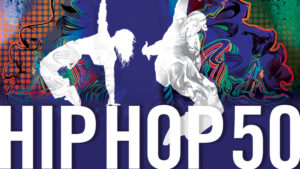 Location: People's Street Plaza, Leimert Park
Time: 7:00–10:00 PM
"A Birthday Party for Hip Hop" is the second of three events. Featuring USC Kaufman students performing work by USC Kaufman professor d. Sabela grimes, this block party featuring local dance artists and special guests will celebrate kinetic innovation and offer a love letter to Hip Hop.
Admission is free. Reservations required.
Bio:
d. Sabela grimes, a 2014 United States Artists Rockefeller Fellow, is a choreographer, writer, composer, and associate professor of practice at USC Kaufman, whose interdisciplinary performance work and pedagogical approach reveal a vested interest in the physical and meta-physical efficacies of Afro-Diasporic cultural practices. Considered one of the most imaginative and innovative artists in his field, grimes created and continues to cultivate a movement system called Funkamentals that focuses on the methodical dance training and community-building elements evident in Black vernacular and Street dance forms.
Presented by USC Visions and Voices. Organized by artistic lead and curator d. Sabela grimes (Dance). Co-sponsored by the Center for Black Cultural and Student Affairs and La CASA.
View all events