Hubbard Street 2 partners with USC Kaufman for hybrid performance
March 25, 2016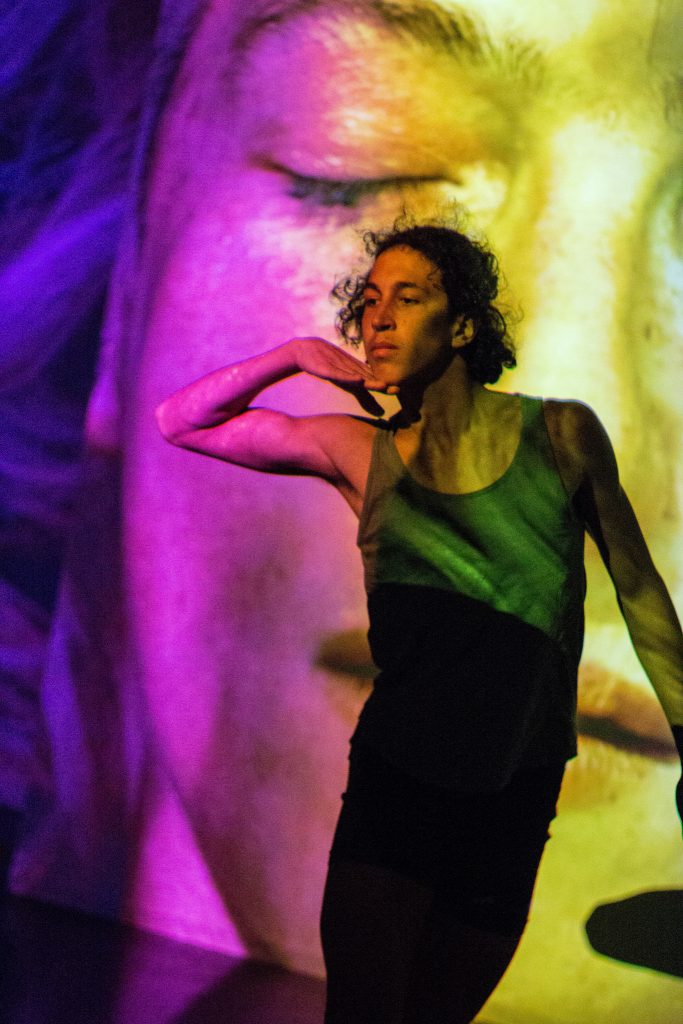 On March 24, a day after members of Chicago's young contemporary dance company Hubbard Street 2 took the stage at USC's Bovard Auditorium, they joined students from the USC Glorya Kaufman School of Dance to perform "Second Sight" a site-specific collaboration at the USC Fisher Museum of Art. The improvised dance piece conceived by USC Kaufman faulty member Thomas McManus was set within artist Lita Albuquerque's video-installation "20/20: Accelerando," and seamlessly wove together elements of sight, sound, and movement across mediums.
Albuquerque's film installation, which is on display at the USC Fisher Museum until April 10, 2016, presents the story of a long journey: The protagonist goes through a period of amnesia, and then receives help to unlock her ancient memories and continue her journey.
"The idea was for the dancers to go on a journey as well," said McManus. "They started with having the knowledge of a dance sequence, then they analyzed that sequence and began to break it apart, and then later they reconstructed it into a different form."
Photos by Carolyn DiLoreto
The experience inside the gallery
To the tunes of the installation's haunting yet urgent score, both dancers and audience members flowed through three rooms of the dark gallery lit only by Albuquerque's colorfully immersive video projections. While negotiating the shared space, close encounters between dancers and the audience at times breached the fourth wall.
In performance alongside the professionals of Hubbard Street 2, USC Kaufman students displayed comfort with improvised movement, presenting a coherent 26-minute performance that took cues from the changing video backdrop. The collaborative performance, part of a dynamic partnership between USC Kaufman and Hubbard Street, provided opportunities for artistic exchange between dancers from both groups.
"It was cool to see the young energy of USC Kaufman students," said Hubbard Street 2 dancer Adrienne Lipson. "I think we brought them a little bit of seriousness and they reminded us to keep it fresh and lively."
---