Graduating senior strives to improve mental health services for dancers
January 14, 2019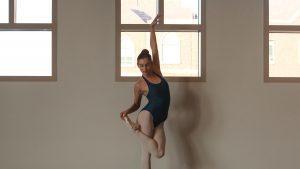 Coco Alvarez-Mena, a senior BFA student at the USC Glorya Kaufman School of Dance, remembers dancing as a little girl. She was expressive and carefree, whether she fell on her butt or not. That was before the pressures of the dance industry began to have a detrimental effect on not just her dancing, but her mental health.
With some encouragement from her mother, Alvarez-Mena now meets regularly with a sports psychologist. She says it has "made a world of difference" in coping with the stress and anxiety of dance training.
Providing care to other dancers
Alvarez-Mena, a member of USC Kaufman's inaugural class graduating spring 2019, is in the process of developing her senior project. The project is a program called Kaufman Care that makes mental health services exclusively available to BFA dance students.
One of the main reasons for the project is that talking about mental health issues in the dance community is considered taboo, according to Alvarez-Mena.
"It's okay to talk about an ingrown toenail or a pulled hamstring because that's an injury. But for some reason if we're all feeling really self-conscious or defeated, it's not talked about. We always have to be these strong competitive athletes," Alvarez-Mena said.
Kaufman Care is still in the early stages of development, but the goal is that it accompanies the physical health services already available to Kaufman students. Right now, dancers can easily sign up for physical therapy, pilates and gyrotonic appointments.
"What I want to do is have the same thing, but for sessions with a sports psychologist," she said.
Newsletters and events featuring guest speakers who specialize in mental health for dancers would also be part of the program. These experts would discuss dance-related topics like audition anxiety.
Unique support for unique conditions
Currently, dancers go to Engemann Student Health Center to address any mental health concerns. According to Alvarez-Mena, dancers should be eligible to receive more specialized support. They have a unique set of stressors, including competition, comparison, body image, anxiety and stage fright.
Alvarez-Mena says she has not always been the most confident dancer. "I would just psych myself out so hardcore, or not even put myself in the place to be given opportunities. I would stand in the back or not even apply or audition for summer programs because I didn't want to deal with that rejection," she said.
With guidance from her sports psychologist, Alvarez-Mena has been able to improve her outlook and maintain a healthier perspective. Her focus now is too push past the desire to have the perfect feet, turnout or extension and to just dance–because that is what she loves to do.
Alvarez-Mena hopes that Kaufman Care will be much more than a senior project, but an actual program that will be implemented for future students to benefit from for years to come.
"Being a dance major is so intense all the time that when you get in this environment and you have no outlet, you burn out," Alvarez-Mena said. "If I could prevent people from having to go through that, that's my goal. I want people to dance because they love to dance and not just quit because it was too much to handle."
---
By Arlissa Norman