Student Blog: Sharing in Merce Cunningham's legacy with Silas Riener
November 11, 2019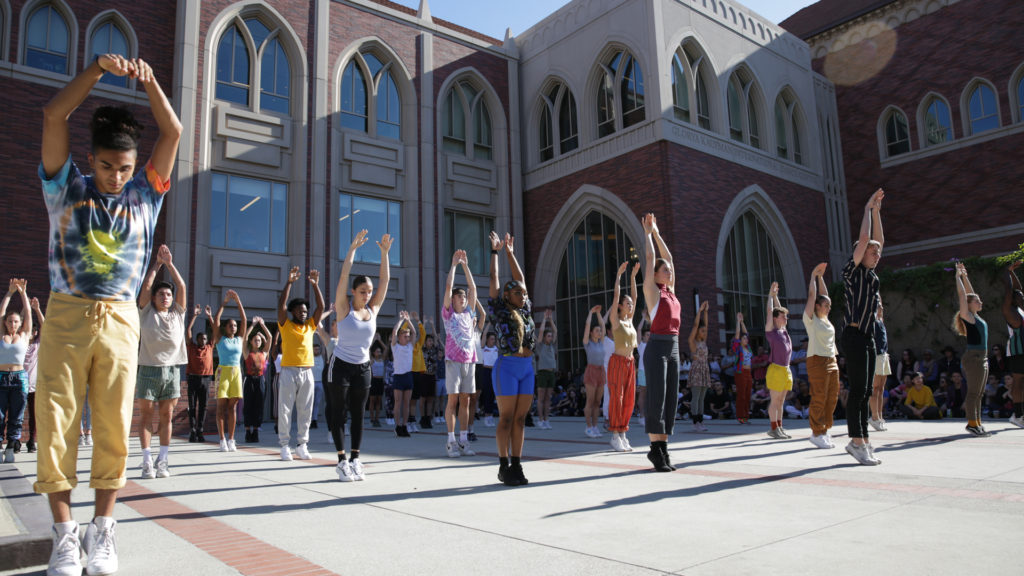 Before switching into "performance mode" here at USC Kaufman, I, along with the entire Class of 2022 and Class of 2023, had the privilege of working with Silas Riener. Together, we delved into the work of Merce Cunningham.
Silas danced with the Merce Cunningham Dance Company from 2007 until its final season in 2011. Working with Silas has been such an honor. He worked directly under Cunningham, experiencing his revolutionary choreographic processes first-hand, before Merce's passing in 2009.
Constructing MinEvents
On the first day of rehearsal, after the proper introductions, Silas immediately began to teach us movement phrases. Soon we learned that we would be taking a different approach to the repertory. Rather than rehearsing and staging a singular masterwork, we would work with selected excerpts from several evening-length Cunningham pieces.
After we learned the movement phrases, Silas told us that we would eventually use them to construct a MinEvent for our Fall Dance Performance as well as a Visions and Voices performance in the USC Kaufman courtyard. The MinEvent performance in the courtyard was especially significant for USC Kaufman. Cunningham, in addition to being a master teacher and choreographer, is also known for pioneering site-specific performances he coined "events." Events are performed off the proscenium stage in more nonconventional spaces, such as galleries and outdoor settings. In hosting our own unique MinEvent here at school, USC Kaufman joins in on the legacy that Merce began.
Understanding Cunningham's approach
Not many of us had experienced the Cunningham technique before working with Silas. Despite this fact, he encouraged us not to become frustrated when the movements did not resonate in our bodies right away. Silas told us that Merce's work is typically either a mental or a physical workout. These workouts require repetitive practice to comprehend and execute.
In just two rehearsals, our class had learned excerpts from over four Cunningham pieces. These excerpts varied from solos and duets to walking patterns– all of which showcased a different facet of Cunningham's work.
Researching and learning about Cunningham led us to discover Merce's radical approach to dance and its relationship to music. Unlike choreographers before him, Merce believed that movement could exist without a story or narrative where the dancers have to portray a character with an emotion. Instead, he believed movement could speak for itself, without having a definite purpose or intent. He also believed that dance and music could exist entirely independent of one another in the same space and time. Merce's beliefs held constant in our rehearsals with Silas. We worked in silence and received no direction as to what to feel or think about when executing the movement.
While everyone's experience exploring and working with Merce's work was different, I think we all can agree that we are humbled by and grateful for the opportunity to learn from Silas Riener and to share in the Cunningham legacy.
---
By Eli Alford