How USC Kaufman has made the move to online learning
April 20, 2020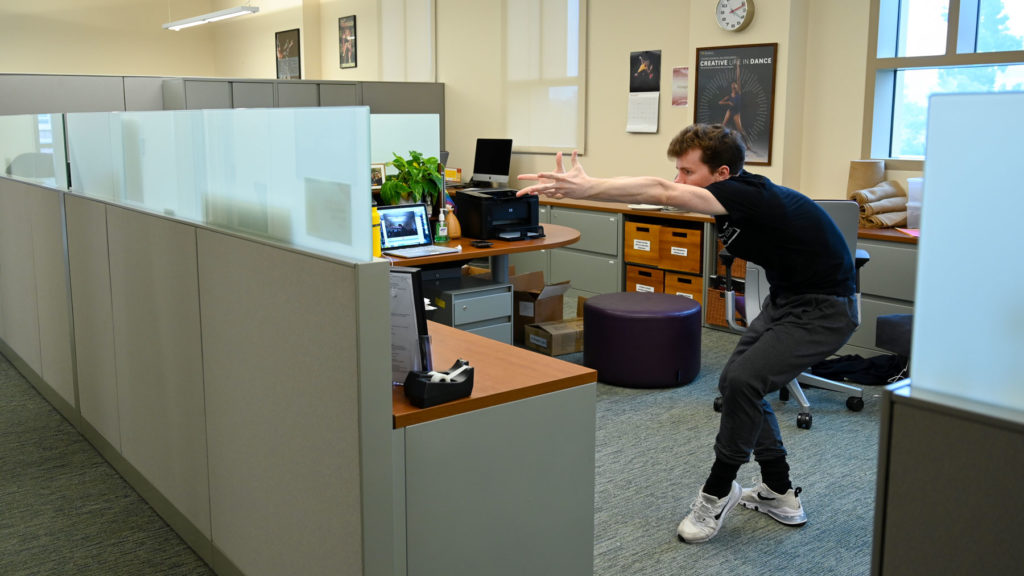 Backyards and living rooms have become dance studios. Kitchen counters and dining room chairs are now ballet barres. This is the new normal for students and faculty at the USC Glorya Kaufman School of Dance.
Over the past few weeks, students, staff and faculty at USC Kaufman have moved their operations completely online. As with every school across the country, USC Kaufman has had to overcome new challenges during this time—primarily translating dance technique classes typically taught in a studio setting to a digital format.
"We planned and strategized early enough to think through Zoom as a resource for all dance practice and somatic work, and altered syllabi and rubrics to fit this new model of remote learning," said USC Kaufman's Vice Dean and Artistic Director Jodie Gates.
"This has given the faculty flexibility to create new plans based on limited access to spaces and to generate course materials that work well for the students. That being said, it has been a herculean task, and continues to be for our professors to adapt and create movement models for the screen."
Justin Pham (BFA '20) shared some of the specific modifications his instructors have made thus far.
"The USC Kaufman faculty have worked tirelessly to translate their curriculum to work in confined spaces," he said. "For instance, in ballet class we now focus on a longer barre since that is more stationary than progressions that move across the floor. All of the faculty are very understanding of everyone's different circumstances. They always present to us modifications for exercises or combinations in case our environment limits the movement at hand."
Going global
Across all schools at USC, differences in time zones between students and faculty are leading to creative solutions.
"Because students have taken shelter in their homes across the world, not everyone is able to get the same experience of a live interactive class," said Pham. "A live morning class in Los Angeles isn't feasible for someone learning from somewhere in Asia."
Consequently, faculty are recording their classes for those impacted by time differences, so they may be taken at a more workable time.
Adapting student services
Other services offered by USC Kaufman, such as career services for graduating seniors and events for incoming freshmen, have also been innovatively shifted to online formats. For example, on the USC Kaufman website, the Class of 2020's profiles have been updated to include performance and choreography reels, photos and more. Additionally, on April 15, USC Kaufman Board of Councilors member Nigel Lythgoe met with students virtually on Zoom. He discussed emerging dance industry trends, developing one's artistry, producing and the future of dance.
Finding community amid change
One important aspect of the USC Kaufman experience that students, staff and faculty are working inventively to preserve is the school's sense of community.
"USC Kaufman has a familial sensibility about it. I miss the small moments that make up the day, like hallway conversations or walking by other classes in session. That has been a challenge that I only discovered after we began," said lecturer Bret Easterling.
Alyssa Myers (BFA '20) noted several courses she feels have been helpful to stay connected.
"I really appreciate Professor Bruce McCormick's classes. They have been the most effective at helping me with my progress. Composition with d. Sabela grimes has led to very fruitful discussions about being artists and creatives in this time and space," she said. "In addition, Senior Seminar with Vice Dean Jodie Gates has really been the place where I feel most at home. I think seeing my whole class together helps me find a sense of belonging. The discussions we have are ones that I will hold onto forever."
Exercising creativity outside of the virtual classroom
As part of Technique classes, USC Kaufman faculty now require BFA students to enhance their training with two additional practices. They have provided a growing list of online resources, including free classes held via Instagram or other online platforms like Zoom.
"I've been doing everything that I can with the capacity that I have mentally, emotionally and physically," Myers said. "In addition to technique classes, I'll take another class through Instagram or I'll improvise outside. I've implemented various cross training outlets that I rotate between, including morning runs, yoga, pilates, gyro and light weights."
When he's not taking online classes at USC, Pham has also been staying productive.
"I have been using this time to update all of my dance and choreographic reels. I have also been reaching out to dance studios who are interested in having me work with their students virtually," he said.
USC Kaufman seniors have also been offered the opportunity to exercise their creativity through USC Kaufman's Instagram series, "2020 Tutorials." In these tutorials, seniors, including Pham and Myers, will demonstrate their choreography for USC Kaufman's Instagram followers. The series is not only an opportunity to showcase their choreographic skills, but also to demonstrate their on-camera presence and teaching abilities.
Words of wisdom
In addition, faculty have offered further wisdom on how their students can be best using this time.
"I recommend dancers use this time to reflect and absorb. This distance is an opportunity to gain perspective. Recognize what's important to you, what you were taking for granted, and how far you've come," said Easterling. "Use this time alone to watch films, read books and listen to music in order to hone your tastes, discover inspirations and dream."
Vice Dean Gates similarly shared her advice.
"Time to pause is what I have been communicating," she said. "Realizing that constant creation may not happen right away when everyone is dealing with a crisis. Giving the students time to cook, spend time with family or reflect on this past academic year and simply pause has been very important as we enter the final weeks of the semester. Of course, the students will continue to be creative, choreograph and research, but also giving them precious time is a gift."
---