Occupational therapy for dancers: a senior project by Adam Vesperman
May 5, 2020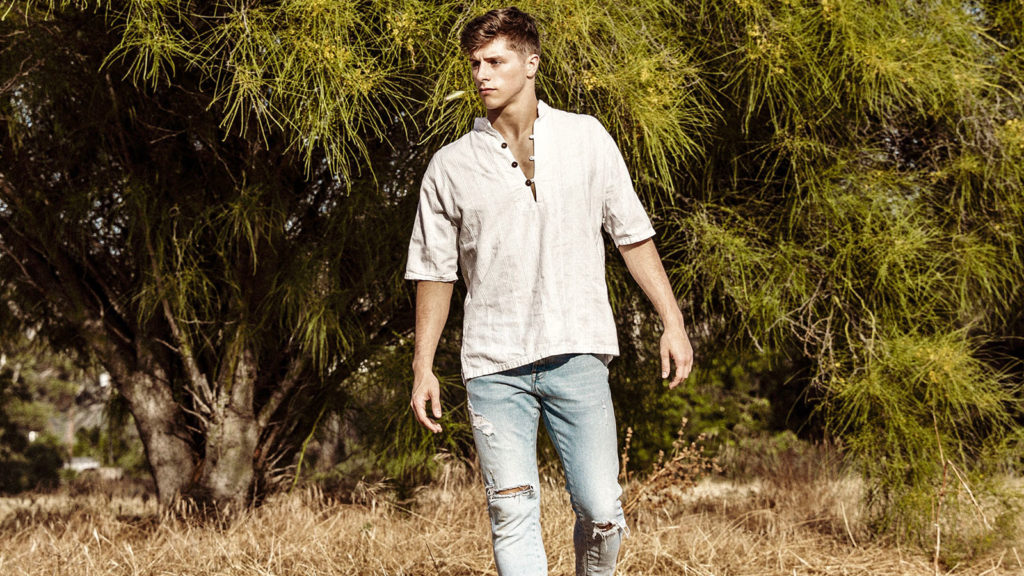 USC Glorya Kaufman School of Dance Student Adam Vesperman (BFA '20) saw his senior project as a way to explore the intersection of dance with his minor in the occupational sciences. Vesperman looked to the values of USC Kaufman to merge his interest in occupational therapy (OT) with that of his dance practices thus far.
"The USC Kaufman motto is 'The New Movement,'" Vesperman said. "It's all about hybridity as a dancer and practicing hip-hop, ballet, contemporary, jazz and more. The motto is also about how that intersects with other academic schools of thought, whether it be engineering, science, therapy or philanthropy."
Vesperman offered his personal definition of OT, as it relates to his background in dance and occupational sciences.
"The idea is to optimize experience and access to our everyday occupations that gives us meaning and purpose," he said. "I wanted to look at OT from the lens of not just understanding things with our intellect, but understanding things with our whole being."
OT inspiration
Vesperman's original goal for his project was to put the USC Chan Division of Occupational Science and Occupational Therapy in conversation with USC Kaufman. This was inspired by an injury that occurred two weeks into his freshman year.
"I experienced a very severe concussion that caused me to lose my sense of smell and taste for about four months. I lost my sense of hearing in my right ear completely," Vesperman said. "That was pretty jarring to me, considering I had never had any traumatic injuries before college. As soon as I tried to get back into dance, I ended up tearing three ligaments in my left ankle."
After the injury, Vesperman questioned his body's ability to dance. However, he also learned an important lesson which was to prioritize health and wellness, as well as to invest in various interests.
"I was inspired to try and promote balance. I wanted to think about all of the little things that can contribute to your health and wellness," Vesperman said. "Someone in the class above me at USC Kaufman pointed out the occupational therapy courses. I fell in love with them because they were exactly what I was looking for. The courses recognized how habits and daily routines contribute to your health and wellness."
The right approach
In examining the available resources in the USC OT department, Vesperman found the Lifestyle Redesign treatment approach. This consisted of consultations with patients to discuss current habits and routines like diet, sleep, nutrition and ability to overcome obstacles. Vesperman said their approach resonated with him because of their commitment to redesigning daily routines to overcome life's difficulties.
Vesperman began talks with USC Kaufman physical therapist Dr. Marisa Hentis. He wanted to work on giving his BFA peers annual screening processes, similar to that of USC varsity athletes.
"We discussed the ultimate dream of having these physical therapy screenings taking place at the Engemann Student Health Center," Vesperman said. "Upon completion of that physical therapy screening, you would be referred to whatever department was necessary to screen you so that you could participate optimally at USC Kaufman. Athletes have to go through that process every season in order to participate. That led me to looking at the intersection of OT and dance through a preventive lens."
Planning the screenings
Vesperman planned to hold a trial of consultations with eight to ten volunteer BFA students. He wanted to focus on freshmen and sophomores because those are the critical years for transition into college. The trial was prepared in collaboration with Dr. Catherine Crowley and Dr. Kristy Payne from USC Chan. Vesperman explained that he met with both Crowley and Payne weekly throughout his project.
Due to COVID-19, Vesperman was unable to pursue the trials. He decided to pass the research down to another student at USC Kaufman, Bella Allen (BFA '22).
"Bella is also an occupational sciences minor," Vesperman said. "She's going to hopefully see the research through to its final form. That may be fulfilling the implementation of OT in the physical therapy screenings yearly or another plan altogether."
The Class of 2020 Senior Projects are supported in part by The Collaborative Projects Fund and the generosity of The Cheng Family Foundation. Watch Adam Vesperman's senior project presentation below:
---
By Brigid Murphy