Passing on great American choreography – Kaufman students learn Paul Taylor's "Company B"
September 15, 2017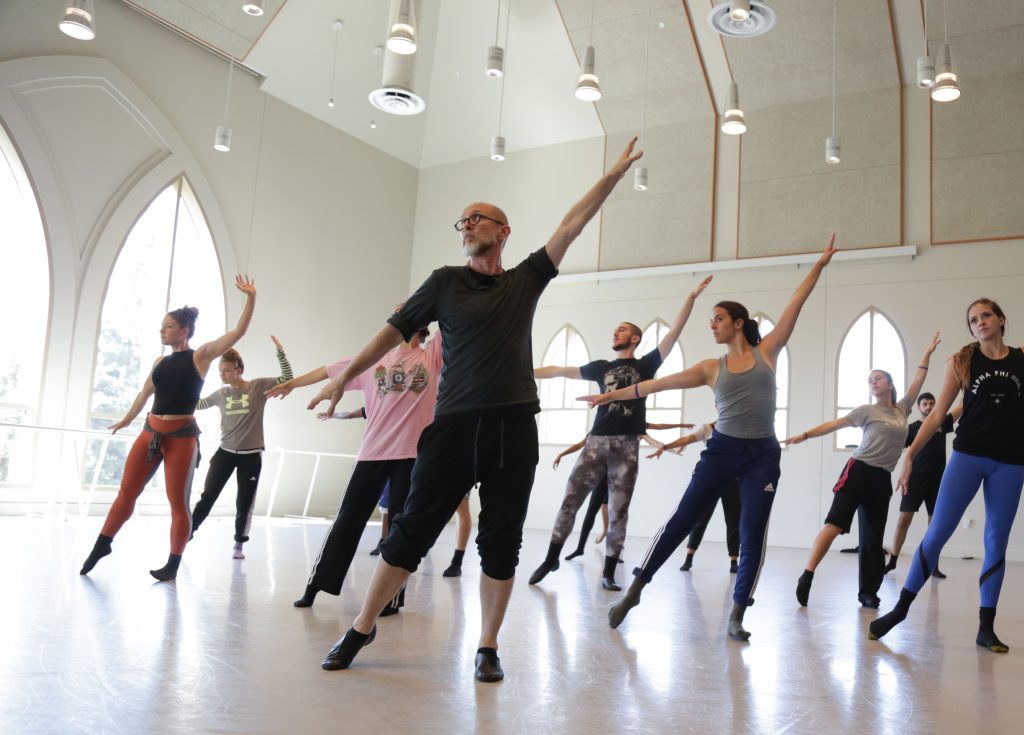 Before this new generation of dancers take on the world, it is crucial for them to understand the rich and legendary dance history before them. This semester, USC Kaufman BFA students have the exclusive opportunity to learn and perform excerpts from 'Company B' (1991), a piece by legendary American choreographer Paul Taylor.
Paul Taylor is one of the last living members of the third generation of America's modern dance artists. He has been highly recognized and respected for his distinctly different work throughout the years. The early 90's were especially gracious toward Taylor's artistry. In 1992, he received an Emmy for his work in 'Speaking in Tongues', as well as a National Medal of Arts from President Bill Clinton the following year.
USC Kaufman Assistant Professor of Practice, Patrick Corbin, is not only the stager of Company B for the Kaufman performances, but is also a former member of the Paul Taylor Dance Company, and one of the original dancers in the premiere of the piece.
"As an original cast member of Company B, I remember firsthand the balance that Paul was looking for; He wanted Company B's step vocabulary to be a fusion and fun," said Corbin.
Company B, set to the music of the Andrews Sisters, reminisces on the country as it arose from the depression, and then landed into a second world war. This piece highlights a grim and turbulent time in the history of our country, and Taylor helps to tell the story of the millions of people affected through movement and music of the period.
Arguably Taylor's most popular piece, Company B, gives viewers an exclusive look at just how versatile Taylor is with his personal choreography style. His work ranges from high-concept intellectual to gestural "found movement," to lyrical and balletic, to idiomatic and even pop-culture influenced. Company B distinctly focuses on a fusion between jitterbug, jazz, and an athletic modern dance style, making it both a unique challenge for the dancers and an audience favorite.
Beyond teaching the steps, Corbin hopes to show students "how beautifully Paul uses motivic development in Company B and how thoughtful one can be as a choreographer".
"In teaching any of Taylor's work, the main or overwhelming benefit is for the students to have a tangible relationship with dance history," said Corbin, "What I always say to the students is, "Martha Graham taught Paul Taylor, Paul Taylor taught me and I'm teaching you."
The BFA students are already spending long hours rehearsing these excerpts for this year's Fall Dance Performance. Opportunities to learn such classic pieces from legendary choreographers is just one of the many amazing perks of being a USC Kaufman student. It is truly a rarity in the dance world to get this close to a mastermind like Taylor.  But it's that small degree of separation which makes both the teaching and learning of such works so vital to the program.
"This is a rare experience for us as we will have the opportunity to gain first-hand knowledge about the choreography, the characters, and the creation process," BFA student Justin Epstein said, "Throughout this rehearsal process, I am interested in gaining more knowledge about the Taylor Style of modern dance."
USC Kaufman BFA students will perform Company B at Midterm Works-in-Progress Showings in October, and at the Fall Dance Performance in November.
---
by Belia Mercado