Renae Williams Niles receives Western Arts Alliance Service Award
September 22, 2017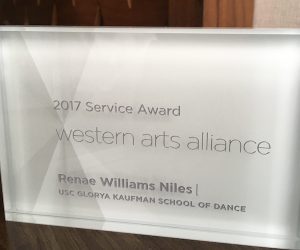 USC Kaufman's Renae Williams Niles recently received the Western Arts Alliance 2017 Service Award at this year's annual conference. The Western Arts Alliance (WAA) is a membership association of touring and performing arts professionals engaged in promoting and presenting performing arts throughout the western states and provinces.
Currently the Chief Operating Officer at USC Kaufman, Niles has served the WAA since 1993, having been a dance company manager, grantmaker, and presenter. She has been a part of several committees at WAA, as well as serving as a mentor, a board member, and the board president for a time. Niles has also served on many grant panels including the NEA and the Irvine Foundation, as well as multiple boards including Dance/USA, Dizzy Feet, and the National Dance Project.  She advocates for dance, the importance of the art form, and advises artists, presenters, and companies.
Now on the board of the Association of Performing Arts Professionals, Niles was nominated for the 2017 service award by Walter Jaffe and Paul King of Portland's White Bird , a dance presenting organization. The award itself was presented to her by Erwin Washington, co-founder and executive director of the Lula Washington Dance Theatre, who she credits for introducing her to arts administration.
"[He was] truly the one who brought me into this field, as I wasn't really aware of arts administration at the time," she explained.
The goal of the Western Arts Alliance Awards Program is to nurture and celebrate leadership, encourage best practices that stimulate the field, promote volunteerism and service to WAA, and strengthen and celebrate WAA as a community of peers and professionals. It seeks to identify and acknowledge those members or organizations whose innovation, hard work and dedication advance the field and the association.  All the awards given at the conference are meant to be a complete surprise to the recipient, and for Niles, this was indeed a pleasant surprise.