Q&A with Christopher Yokas
June 9, 2017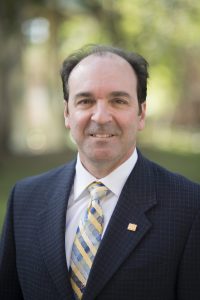 Already a member of the Trojan family, USC alumnus Christopher Yokas joins USC Kaufman as senior business officer after many years working at USC Dornsife.
You've been at USC for 30 years. Where were you stationed before you became USC Kaufman's first senior business officer, and what did you do there?
CY: I was the senior staff person in the department of biological sciences for ten years, until I joined the Dornsife Business Office in July 1997 as a department business officer.
I am told that you are a Trojan from a line of Trojans—what made you choose USC, and what did you study while you were a student here?
CY: My mother (who was president of the USC Mortar Board and a Helen of Troy), her siblings, and my siblings graduated from USC, and I graduated in 1985. I chose USC because of its excellent business and music schools; I majored in business administration with an emphasis in management and organization. I also enrolled in several music courses.
As our senior business officer, how do you interact with the USC community?
CY: I work with several offices and colleagues on campus, including the USC Provost's Office, the Office of Budget and Planning, to develop and plan USC Kaufman's budget. I also work with Human Resources, USC Payroll, USC Purchasing and Disbursement Control, USC Legal Counsel and USC Safety and Risk Management when USC Kaufman has specific needs in these areas.
Since you've been a Trojan for so long, do you have a favorite spot on campus?
CY: My favorite campus locations are Alumni Park and the green spaces between Taper Hall and the Thornton School of Music buildings, near the Norris and Bing Theaters.
How do you spend your time when you're not being a senior business officer?
CY: I enjoy family time with my wife Eleni and our two children, Frank and Penelope.  I am also an active musician and have served for the past 39 years as organist and assistant director of music at Saint Sophia Cathedral in Los Angeles.
How will working at USC Kaufman be a change for you? What are you excited for in this new position?
CY: This is a wonderful opportunity for me to combine my career as a USC business officer with my love of the arts. I have been a patron of the arts my entire life, with a specific passion for classical music and dance. In my short time at the USC Glorya Kaufman School of Dance, I have experienced a very rewarding work environment where the faculty and staff truly collaborate to produce something extraordinary.
---
By Celine Kiner