Red Bull Brings Breaking to USC Kaufman
October 21, 2022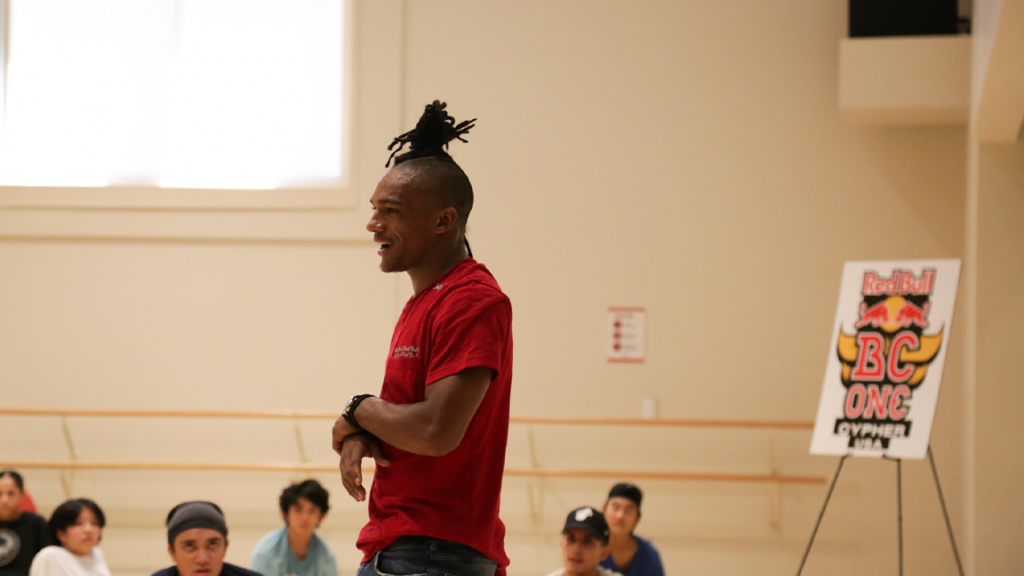 On September 19, 2022, Red Bull athlete and world champion breaker BBoy Neguin came to the USC Glorya Kaufman School of Dance. Originally from Cascavel City, Brazil, Neguin is known for his tricks and signature flipping combos, pulling influence from capoeira and other movement styles. For Neguin, breaking is a way of life.
Sponsored by Red Bull, Neguin taught three workshops. The first two were for the BFA students, during their morning technique blocks. The third class took place in the evening and was open to dance minors and members of USC dance clubs. Neguin shared his wisdom and passion for the art form with all the students.
Red Bull x USC Kaufman
USC Kaufman has partnered with Red Bull in the past on other events. In Fall 2021, Red Bull brought Dassy Lee and Angyil McNeal, Red Bull athletes and well decorated breakers, to speak in a lecture class. Michael Aguilar, who works with Red Bull's dance athletes, serves as USC Kaufman's primary contact. He brought the idea of Neguin coming to teach master classes.
"We're really fortunate to have Mike. On one level, it's really nice for Red Bull to bring people in, so it doesn't have to come out of our pocket," d. Sabela grimes, USC Kaufman hip-hop faculty member and one of the key people planning this event, said. "But Mike also knows some of the philosophical and methodological ways we're looking at hip-hop, so we're able to curate the event in a way that brings Red Bull artists in alignment with how Kaufman is approaching dance. Mike is totally open to that, and he really gets the culture."
Red Bull is a huge supporter of hip-hop dance, specifically breaking, and hosts competitions and battles all around the world. As grimes discussed, when it comes to dance, Red Bull has historically focused on breaking. Red Bull is based in Europe, where the breaking scene is old enough and formalized enough to support in a tangible way. Grimes mentioned that traditionally Red Bull is about extreme sports, and breaking fits nicely into that.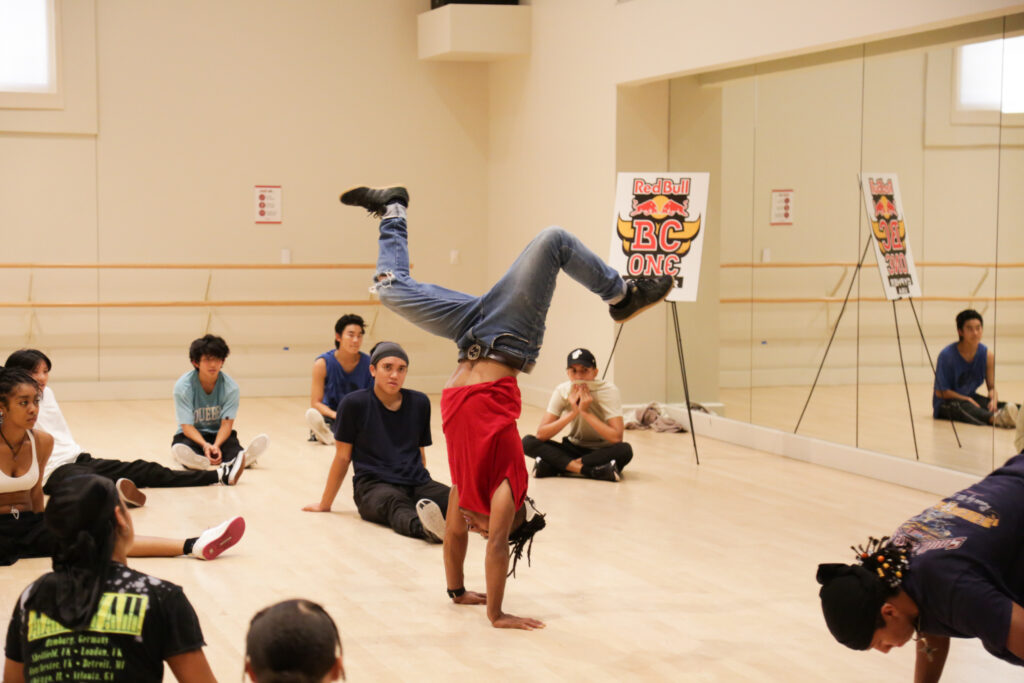 Bringing hip-hop to a university setting
Part of The New Movement at USC Kaufman focuses on hybridity, which includes bringing in styles of hip-hop and street dance. However, these movements were not born in a studio, and how to contextualize these forms in a university setting is an ongoing conversation here at USC Kaufman.
"You can't learn everything about a lot of these hip-hop or street dance practices in a university. The context and the environment aren't the same," grimes said. "The way people engage with an environment like USC Kaufman, when they walk into a studio, something shifts. It's different than walking in at a function. The studio has these embedded connotations of what's supposed to and not supposed to happen."
In this sense, it can be valuable for master classes in hip-hop and street styles to take on a different form. Traditionally, breakers don't learn the style in a classroom or through choreography. So, Neguin's approach focused on inspiring the students and giving them knowledge they can utilize in their own practice.
"I think what's important is the message that I deliver in order to inspire the students. Maybe they might learn a move, or maybe they go outside the class and think, 'well I learned this, I can apply this in my everyday life,'" Neguin said. "Because at the end of the day it's a lifestyle."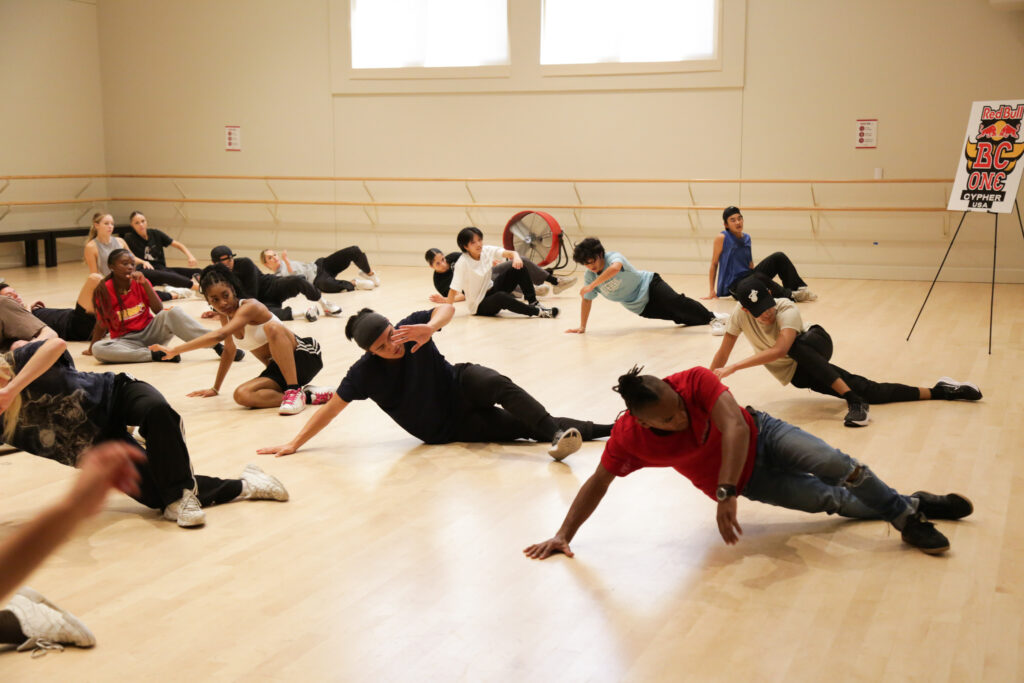 Neguin's unique teaching style
Neguin's classes were interactive, as Neguin continuously asked the students what they wanted to learn from him and how they wanted to approach class.
"It wasn't like, 'I'm here, I'm Neguin, you're going to do this.' And some people get really upset by that, because they're not in the practice of having agency in a class," grimes said. "They're used to walking in and doing what they're told to do."
In this way, Neguin's master classes were very unique. Especially in the evening, his classes consisted of a lot of question and answer. Students asked Neguin about his personal influences and his approaches to the practice. He talked about how he looks at the world, absorbing everything around him and pulling inspiration from everything. He talked about the energy flows of certain movements, demonstrating many of his signature moves.
"What is lacking from a lot of people is understanding," Neguin said. "Breaking is the most complete art form that exists. There's so many different layers and levels. Once you understand and dive deep into what the art form and the culture is all about, then you see the importance."
Neguin emphasized the importance of studying the culture and the history and adopting breaking as a way of life. He talked about the importance of going to dance events and watching battles, beyond just taking classes.
"When you watch people, you can see how much you know, how much you can learn. You train in the ways that make you grow as a person, not just physically but spiritually," Neguin said. "So when you look at someone else that has the same approach, or is leaning towards something that's greater, it's a way to inspire you. And combining both dancing and watching dancers is something that is amazing."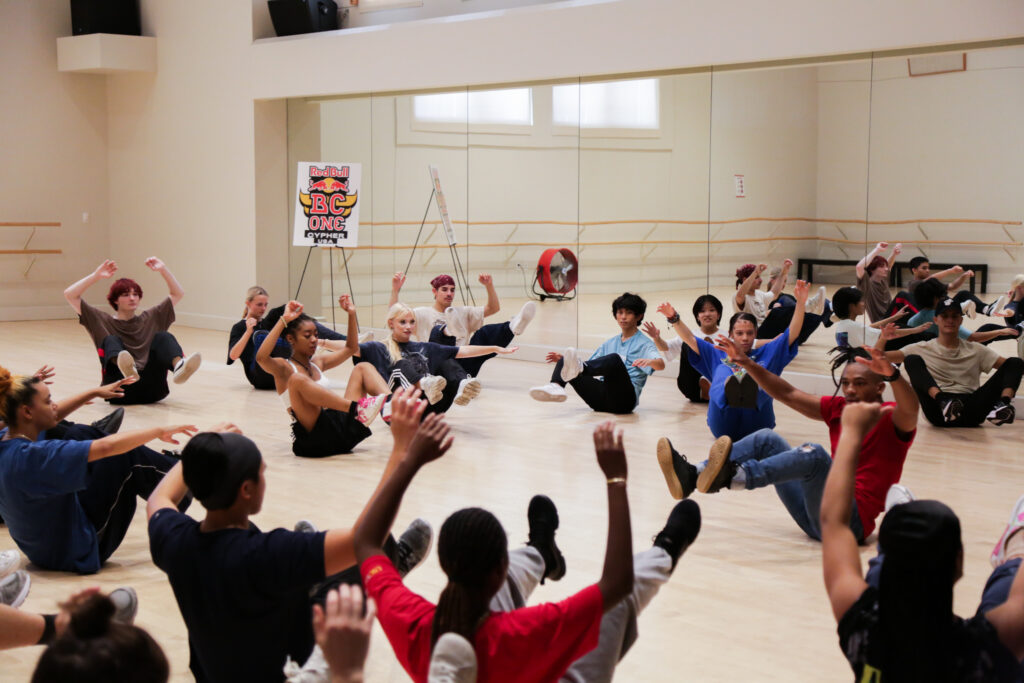 Engaging with the dance community at USC
Guest artist master classes are typically only offered to BFA students. USC Kaufman opening the evening class to dance minors and dance club members is the beginning of an initiative to create connections between USC Kaufman and the long established dance community at USC. As grimes described, the seed for this connection was planted at USC Kaufman's inception, but has recently been pushed forward by Kyle Beasley. Beasley, a Student Services Officer at USC Kaufman, works as the dance minor advisor and heads the USC Dance Community, an organization that brings together leaders from all the dance clubs on campus.
"When Kaufman first started, we didn't have this building, so we were all over campus, which was great because I was really immersed," grimes said. "I used to love seeing the different dance crews in the parking lots all over campus. But now we're over here and it's so easy to stay here."
Moving forward, grimes hopes to curate bigger events with Red Bull as we continue to cultivate the relationship. He said they plan to continue to bring in artists to teach classes and speak in both lectures and informal contexts.
---
By Hannah Doerr