Sidney Ramsey to graduate with first double major
May 14, 2021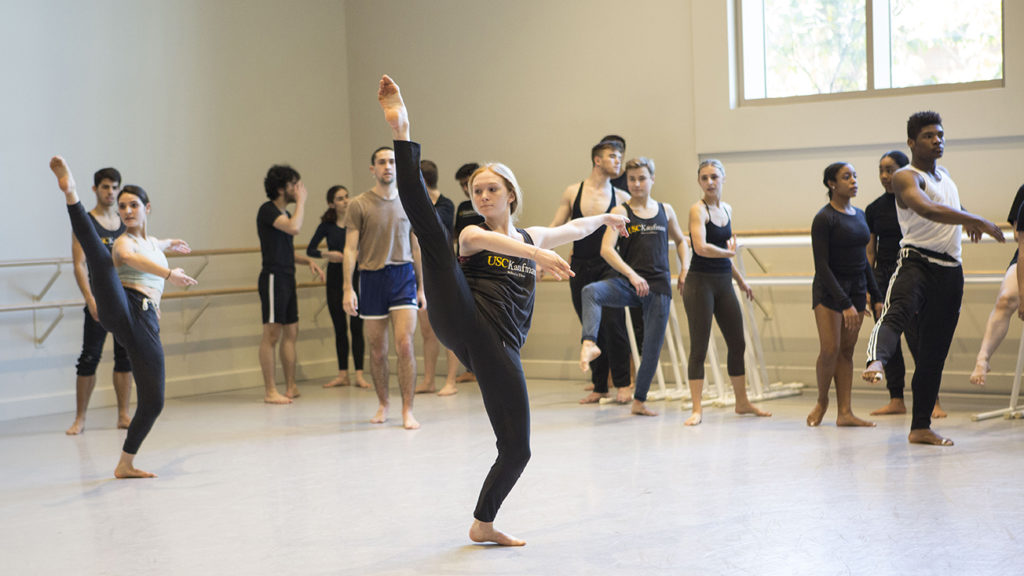 Students at the USC Glorya Kaufman School of Dance enjoy the unique experience of a dance conservatory within a larger university. Sidney Ramsey (BFA '21) used her positioning at USC Kaufman to accomplish a unique feat in this setting. She graduates this spring as the first student with a double major in Dance at USC Kaufman alongside Health and Human Sciences at the USC Dornsife College of Letters, Arts and Sciences. Additionally, she completed a minor in Psychology to round out her academic interests outside of dance while at USC.
Looking for both dance and academics
Ramsey grew up dancing at a competitive dance studio in South Carolina. She also attended an academically rigorous high school. When looking for colleges, she wanted to find a school that could challenge her both in dance and academics. Ramsey sought school that could support her in pursuing a degree in dance as well as a traditional academic degree. She wanted to couple her passion for dance with her growing interest in the health sciences.
"I was very excited by USC Kaufman because they encouraged the double major and saw how it could enhance my abilities in dance," Ramsey said. "In my interview, I remember talking about my interest in human health and gerontology. Professors William Forsythe and Patrick Corbin also talked about their research into gerontology and dance. USC Kaufman seemed like the perfect place for me to do both things that I enjoyed and feel supported and challenged in doing that."
Health and Human Sciences
Ramsey's coursework for her double major, Health and Human Sciences, spans both the STEM and humanities subjects. She explained that in high school she did not prefer one academic path over the other. So, this major tied the two together. Ramsey ended up choosing the Health and the Mind track within the major, which eventually inspired her Psychology minor.
"This major teaches all about the social perspectives of health. It's very sociology and psychology driven, especially the track that I chose," she said. "I still took statistics, biology and research courses, which helped me experience both the analytical and creative sides within academics."
Research opportunities
Through her double major, Ramsey completed directed research initiatives. For the past three years, she has conducted a study within USC Kaufman about the holistic health of BFA students. Her work in her psychology and sociology classes inspired this work, and she saw her two majors intertwine in the research.
"Mental health and environmental health are pretty understudied within dance," Ramsey said. "There tends to be a concentration on physical health, and I think that misses a lot of the actual risks of injuries because your mental health connects to your physical health. There is more research being done to promote the mental health of dancers, but I still think the industry lacks resources compared to the existing problems."
Through this ongoing research, Ramsey worked with her advisor Patrick Corbin, an Associate Professor of Practice at USC Kaufman. To reach the BFA students, they sent out surveys three times a semester to monitor their mental and physical health. They collected this data to analyze it and run statistics on the responses. While Ramsey graduates this spring, she aims to continue her research in the future. She aims to either stay directly involved or pass the research down to a younger student at USC Kaufman.
"I plan on dancing professionally for a little bit with a contemporary company, but I definitely don't want this research to end. There's an obvious gap in the dance industry for more knowledge about holistic health. I also would love to expand that research to professional dancers too. Further in the future, I definitely would love to have a leadership position at an organization that's providing resources and continuing this research to help dancers."
Advice to BFA students
While the BFA program at USC Kaufman is extensive, Ramsey advises BFA students looking into double majors and minors to try new things to enjoy their learning and take advantage of their time at USC.
"I did not want a psychology track coming into my double major, but I ended up loving it," she said. "I looked at it as an opportunity to learn more about something new. Also, we're able to take 18 units, and sometimes that one extra elective could be something that you're introduced to and you love it and it changes your life and the way that you view things."
---
By Brigid Murphy