Sir Matthew Bourne Pays a Studio Visit to USC Kaufman Students
September 14, 2016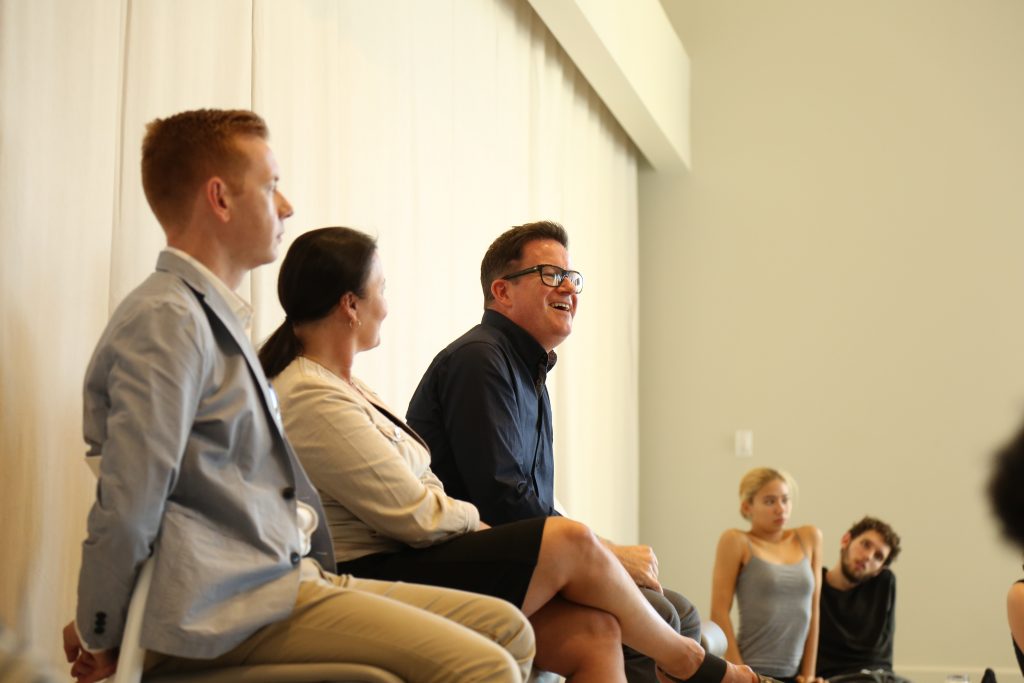 Legendary choreographer Sir Matthew Bourne, known for his reimaginations of classic ballets, came to campus Sept. 9 for a discussion with USC Kaufman School of Dance students and faculty. Bourne, who was knighted by the Prince of Wales in May, also watched BFA students perform in the Turquoise studio in the new Glorya Kaufman International Dance Center.
Bourne and the executive director of his dance company, New Adventures/Re:Bourne, saw the students perform Dwight Rhoden's Red: The Force, Alejandro Cerrudo's Lickety Split, and William Forsythe's In the Middle, Somewhat Elevated. Pulling from contemporary and balletic threads of USC Kaufman repertory, the students put a smile on Bourne's face, prompting  thanks from the choreographer.
"Wonderful. You should really be proud of yourselves," he said as the last piece finished.
Following the showing, faculty and students gathered at the front of the studio to ask Bourne questions about his work and his thoughts on dance. The discussion, moderated by USC Kaufman vice dean and irector Jodie Gates, covered topics from audience to acting to company diversity.
"I like to see the person, I like to see the individuals who are performing," Bourne said. "I need the company to look as different as possible because I want it to reflect the world. It's not about 'do they dance the same' or 'do they look the same.'"
The diverse faces of USC Kaufman BFA freshmen and sophomores—51 students of varying sizes, races, and backgrounds— nodded in agreement.
Known first for his 1995 reimagination of Swan Lake with a male swan corps, Bourne is now recognized for his many theatric ballet works, each interpreting a classic with some sort of twist. His The Car Man combines the original Shchedrin score from Carmen with its own modern thriller story, and his Sleeping Beauty asks how Aurora's young suitor would find immortality upon discovering her fate. Bourne is now tackling the 1948 film The Red Shoes, which will premiere at the Theatre Royal Plymouth in Plymouth, England, in November and later be presented at Sadler's Wells Theatre in London.
Bourne was in Los Angeles to receive the Dizzy Feet Foundation's Gene Kelly Legacy Award.
---
By Celine Kiner