Student Blog: A week with Hubbard Street teaches us The Art of Falling
November 10, 2015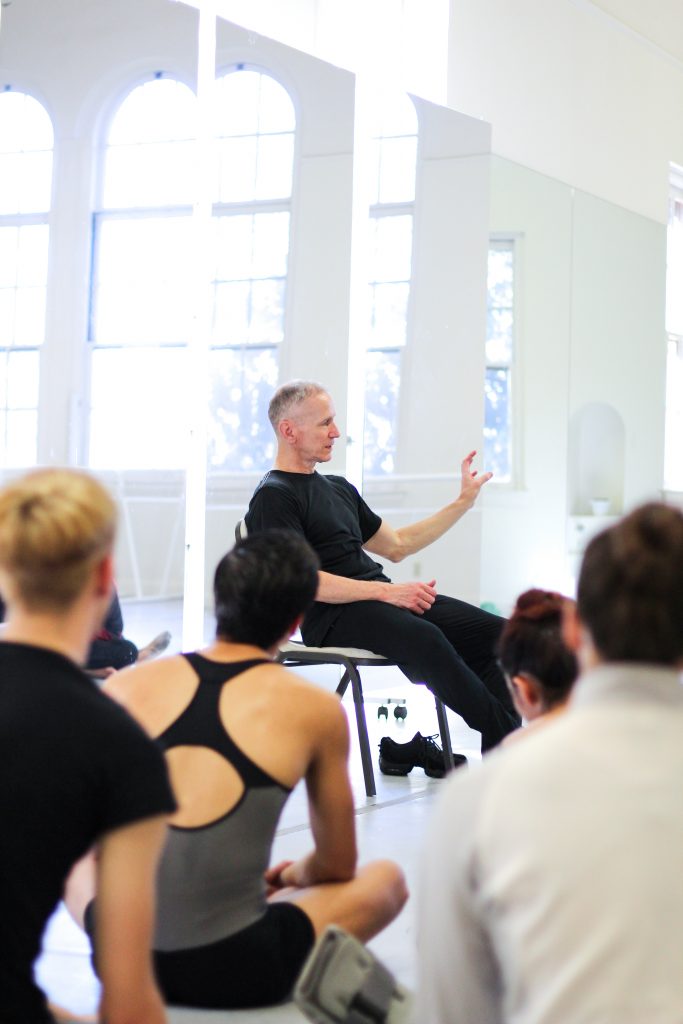 By Celine Kiner
Monday's repertory class barely left time for introductions; Tobin Del Cuore (who has danced with Hubbard Street Dance Chicago, BalletX, Aszure Barton, and more) launched immediately into the choreography from Alejandro Cerrudo's Lickety Split. The movement was detail-oriented, softly punctuated, smoothly shaped, and sentimental. Employing these many facets at once took every ounce of mental engagement, but it was well worth the exertion–Cerrudo's choreography is notorious for its subtle, yet fluid beauty. Of course, it helped that Tobin, one of the piece's original dancers, demonstrated within five feet of us as he articulated the specifics of the choreographer's intentions. The focus in the room was tangible, as every one of us tried our best to absorb each intricate nuance. We couldn't afford to give less than our best with Hubbard Street Artistic Director Glenn Edgerton, formerly of The Joffrey Ballet and Nederlands Dans Theater, watching from the front of the room.
Rehearsal with Tobin was just the beginning; two ballet master classes with Glenn followed on Tuesday and Wednesday. The first featured a return to basics, in which creating a clean and simple frame off of which any choreographer could build was essential. This began with our spinal alignment, then extended into our limbs. Glenn asked for the path of the arms through a supported first position, rather than a Giselle-like crossed position with elbows forgotten. Afterward, he told us about his transition from dancer to director in a Q&A session, which brought light to the working environment of the dance world, something that each of us aspires to be a part of. Wednesday's class emphasized traveling our movement, and Glenn's mantra, "if you can, you have to." He told me later that "as a dancer, if you're capable, it's your responsibility to enhance the art form." This meant everything to us. It gave a purpose to our love for dance, one that we needed during week eleven as the soreness began to take hold.
After multiple rehearsals with Tobin in which we learned multiple gorgeous duets and a few solo sections from Lickety Split, our week culminated in a trip to the Ahmanson Theatre at the Music Center, where we were privileged enough to watch Hubbard Street and The Second City perform The Art of Falling, a collaboration of dance and comedy that yielded a bright picture of innovation. The general consensus among the class was that this performance was probably the best we had seen to date; the storylines were engaging and applicable to any observer, the imagery creative and the movement effortless. Some of our dancers converted, which is to say that we decided Hubbard Street was our dream company, despite contemporary being far from our main style. It was hilarious, it was breathtaking, it was new. It was another reminder that the New Movement can be explored in so many different ways–and that we have the power to explore it ourselves.
---
By Celine Kiner