Student Blog: Aszure Barton's "Busk"
November 20, 2017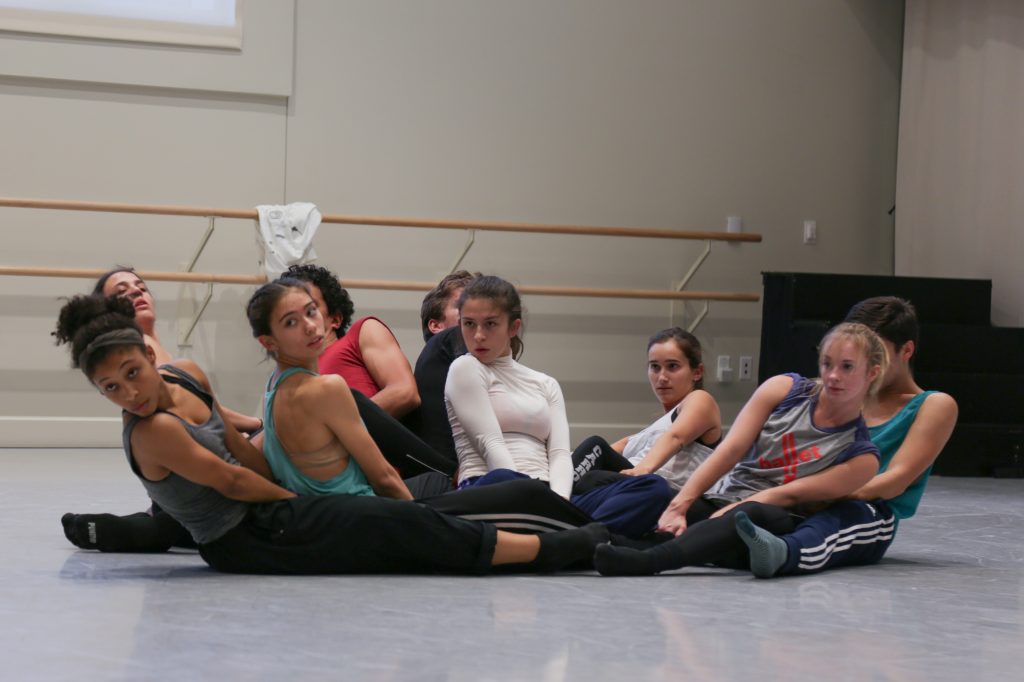 By Jake Tribus
Working with Aszure Barton and Jonathan Alsberry on Barton's work "Busk" for the past three weeks has been such a thrilling ride. This piece is a physically, mentally, and emotionally complex one. We as dancers are required to be constantly present and focused when in the studio working with Aszure. You never know when she may change your spot in a formation or your count structure with the snap of a finger. Working like this is so beneficial–it reflects her mindset that "no one should ever take ownership of a role." We all hold equal responsibility over the work that we are learning, and we are all equally required to know each role. Our brains were definitely put to the test with the constant changes in rehearsals. This also allowed Aszure to adjust the piece specifically for the Kaufman dancers that she was working with. There were some transitions or formations or roles that she really morphed based on a collaborative effort between herself and the dancers. This process has resulted in what we feel is a very personal and special version of "Busk" for Kaufman to perform.
Working with Alsberry's help
Jonathan "Jojo" Alsberry has been the best rehearsal director to work with, creating such a warm and productive environment. With years of performing this work under his belt come many tips and pieces of advice for executing "Busk." Jonathan has imparted his knowledge onto us in such an efficient way, especially since he only had three weeks to stage the work. He has helped the dancers approach the work with an ease that allows us to both pace ourselves through the entirety of "Busk," while still reaching the fullest potential of each and every movement.
Characterization in "Busk"
The characters that Azsure has created are another huge element of the piece, and I have so enjoyed learning to embody them. The piece reflects a dichotomy between the rich and the poor, and the lifestyles of both. Finding the storyteller within myself has been without a doubt my favorite part of this journey with Aszure and Jonathan. It has required me to approach the movement in the way an actor might, taking extra care to ensure that the audience knows exactly what story I am telling them, and what my character is experiencing. Top that off with some extremely physical movement, and you have "Busk." I am beyond honored and grateful to have been a part of the process of learning Aszure's work, along with such an amazing cast of people. The long hours, sweat, and dedication that we have put into this piece is going to come forth on stage, and I cannot wait to bring it all to life.