Student Blog: Balanchine and beyond– in the classroom with Zippora Karz
December 24, 2015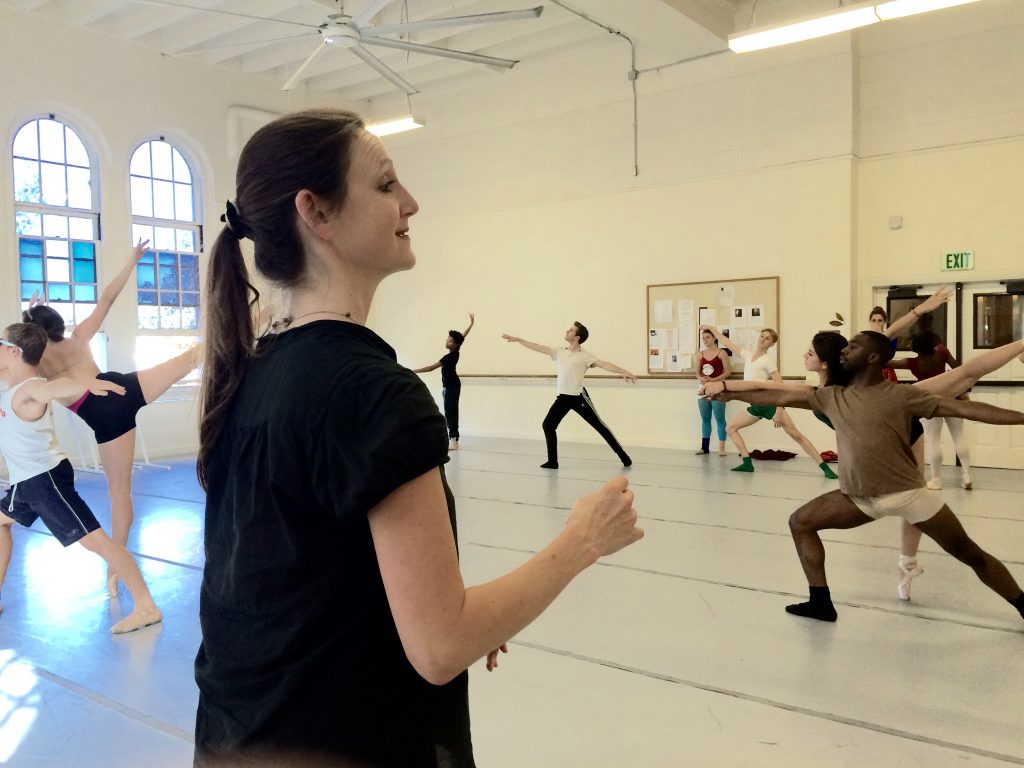 By Celine Kiner
Zippora Karz has the most beautiful long legs; her line is impeccably clean. She is stunning in the traditional Balanchine costume, simply a leotard and tights, and my own limited experience in the ballet world tells me that this is no easy accomplishment. Old photographs of her performing make every one of us BFA students wide-eyed with awe. Working with Professor Karz as one of USC Kaufman's artists in residence is not just humbling, but engaging–her story is so incredible that it is almost unbelievable, until you hear it straight from her mouth.
To dance for Balanchine, according to Professor Karz, was to have "this force inside of you, a force that said, 'I can't hold back!'" As one of the last dancers chosen from the School of American Ballet for Balanchine's New York City Ballet, Professor Karz lived through the company's transition of directors. When Peter Martins took over the company, however, the dancers were still of Balanchine's era; and she says that the company was still very much Balanchine, that "the energy was him." Many of the company dancers at the time are now considered the greats, among them Suzanne Farrell (who took Karz under her wing), Patricia McBride, and Helgi Tomasson.
Despite her successful career, Professor Karz faced her own set of challenges. Her book, The Sugarless Plum: A Memoir, tells of her long and labored battle with Type 1 Diabetes, which involved misdiagnosis and misunderstanding to a shocking degree. Now that she has found healthy ways to monitor her sugar levels, she explains that she was forced to come to terms with being imperfect, and instead being satisfied with herself and her efforts.
Perhaps this is why she is so personable and lovely to work with; she remembers every student's name, she cares truly and personally about every single one of us. She says it has always been a part of her; she didn't like being reduced to a body when she was dancing. She was a person.
"I don't look at it as a ballet thing, I look at it as a person thing. I see you, not just your tendu," she says.
It is rare to find a teacher that invests in more than just the way the student looks in their class, but she does so with grace and beauty. She asks about our injuries, she asks if we've had enough sleep this week, she asks about our other classes and how much work they're giving us.
It is simply amazing to me that after sixteen years dancing with the New York City Ballet, Professor Karz (who is now a teacher, coach, and repetiteur for the George Balanchine Trust) could be so humble and so approachable. She truly cares about her students as people and about ballet as an art form, and it shows through in her interaction with us. Working with her is just another reminder of how fortunate we are to be a part of this program, and study under such a seasoned faculty to create the New Movement.
To follow Professor Karz's story, visit her website here.