Student Blog: Cloud Gate immerses dancers in Taiwanese culture
February 1, 2016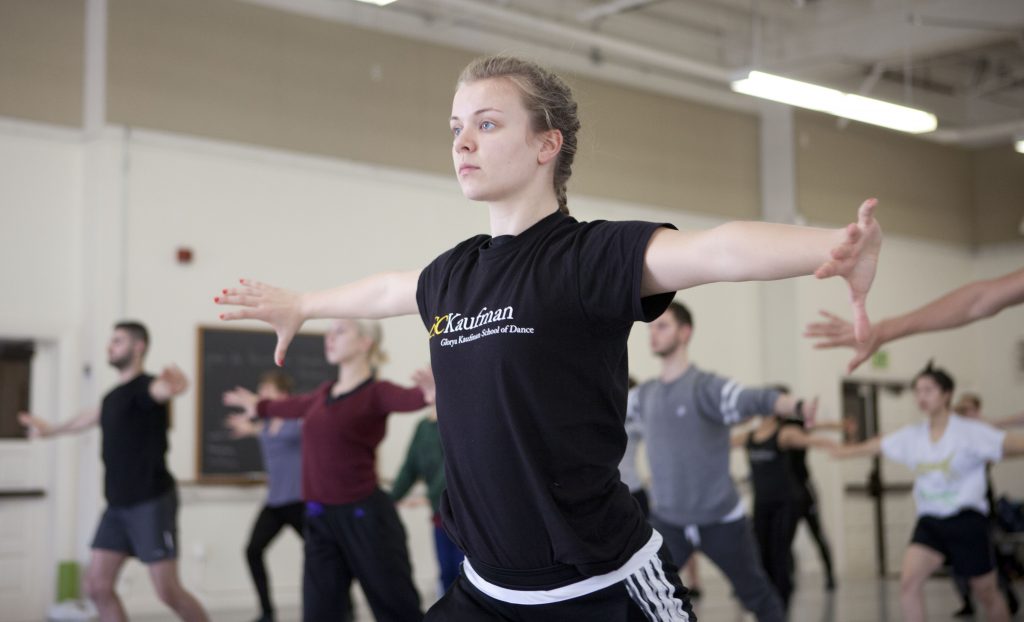 By Celine Kiner
A single and momentary exhale enveloped PED 207 on Tuesday: in the midst of a demanding period with Victor Quijada and the extreme physicality that his movement requires, two dancers from Cloud Gate Dance Theatre of Taiwan quite literally graced us with their presence. Chou Chang-ning, rehearsal director and senior dancer, led the class.
They began with a beautifully flowing breath exercise, instructing us to send energy spiraling through our being–energy which began at the floor and continued through our torso and arms, expanding into the space around us. Their grasp on this concept was so evident in their movement, which was effortlessly endless, creating a quality almost ethereal in the atmosphere around them. The tension in each of our shoulders dissolved almost immediately, the movements engaging yet calming, in contrast to the full presence necessary in the RUBBERBAND Method.
The Cloud Gate dancers study tai chi as a movement practice as well as dance, and it is integrated within their style in a seamless fusion that breathes culture and tradition into their art form. Eight fundamental martial arts positions, four of which we learned, and many variations on kicks are common in Cloud Gate techniques. Each involve an initiation of movement very different from the types of dance we at USC Kaufman are familiar with; consequently, employing the idea of spiraling energy was imperative in our adaptation of the movement. Chang-ning noted that the dancers hold each position for up to 20 minutes, which requires incredible strength (I could barely last a minute in some of them). This strength was very apparent in the quiet but controlled movements that the dancers executed, in both class and in their performance of "Rice" at The Music Center, which we saw on Saturday.
The way these small fragments we had learned fit into the greater picture of the Cloud Gate choreography was beyond compelling–each of the dancers possessed an indescribable calmness that lent such beauty and suspension to their dancing, yet still allowed frantic and emotional expressions. Their performance captivated audiences, not only through their own movements but their utilization of inanimate objects (specifically, the beautiful arcs of rice when acted upon by gravity), their willingness to let their rich culture saturate their dance, and their innate grace and carriage throughout the work. Though steeped in tradition, Cloud Gate Dance Theatre is yet another example of the New Movement, the ways in which we blend dance with our own people and their stories.