Student Blog: Opportunities knock
July 24, 2017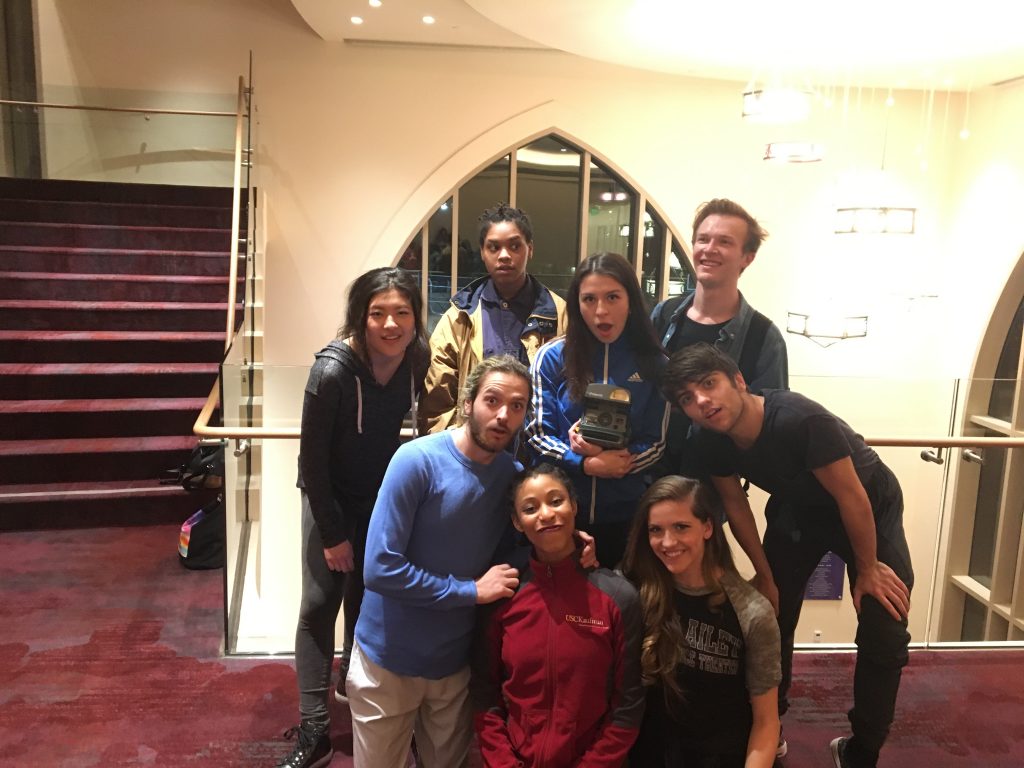 By Alyssa Allen
USC Kaufman's environment produces many opportunities where dancers and artists can collaborate. We are able to start building connections with other artists on campus that will remain strong after graduation and throughout our professional endeavors. Many of these collaborations have blossomed into friendships that will surely last a lifetime. I believe that now is the best time to collaborate–we are all hungry to create, and are willing to do it for free (a rare opportunity in the working field).
Creating with composers
Recently, Kaufman collaborated with the Thornton School of Music to present the first joint show between the two schools. In my opinion, it was a major success (especially according to the packed audience). A handful of composers met with the Kaufman sophomores, and dancers were able to listen to each composer's works and list who they'd like to work with most. Eventually, the dancers were split into groups of four or five and each group was given one composer. My group, which included Dylan Balka, Jordan Johnson, Satori Folkes-Stone, and Rebecca Troyak, choreographed to the music of composer Brad Valentine. We were all equally as thrilled, because Brad was our first pick. His music was fascinating because of its diverse use of rhythms, easy transitions, natural groove, and various musical styles. Basically, we loved Brad's creation and wanted nothing more than to bring our imagination to the stage with his music. The actual process of choreographing went very smoothly. I absolutely loved working with my crew, collaborating ideas, and sharing movement. Of course, some ideas just ended up not working out, but together we found solutions. We may have finished the piece a few days before the show (and changed a few sections a few minutes before the show), but nonetheless, we could not have been more proud of our collaboration.
For the first time, the Kaufmanites were able to choreograph together and experience how to create in a group setting, which is essential for our professional careers. I definitely believe this entire process was not only insightful, but also fun. I hope this becomes an annual tradition between Thornton and Kaufman for years to come.
The most beautiful part about this show was the fact that every single piece was completely different. Some pieces incorporated props, including underwear on balloons. Some involved brilliant costuming, like the use of mock turtlenecks and with long skirts. Some stuck with classical ballet, while others used a variety of movements to express their story, and overall every individual's personality was present in each piece. I believe that this show was a marvelous way of expressing who the dancers of USC Kaufman are, and why we are so special.
I see this show as a huge success because of the connections I made along the way. I met musicians, composers, photographers, cinematographers, directors, rappers, singers, and overall just great human beings, two of which performed in the show with us; Mindy Chen (follow her sound: Delugee) and Kiki White (follow her sound: ORA77K).
Other areas for opportunity
On top of interdisciplinary collaborations, we also look into interdisciplinary studies–we are given the opportunity to add a minor on top of our dance studies. Many Kaufmanites have already or will begin to enroll for their minor courses; options include marketing, political science, occupational science, business, performance science, and nonprofit, volunteerism, philanthropy, to name a few. We also can enroll in clubs to pursue interests in activities from poetry to activism. Our schedule is jam-packed to the brim with opportunities, which calls for focus and perseverance. But, we did not choose USC hoping for anything less. The will to "fight on" is in our blood!