Student Blog: Curiously moving conflict engagement
March 27, 2017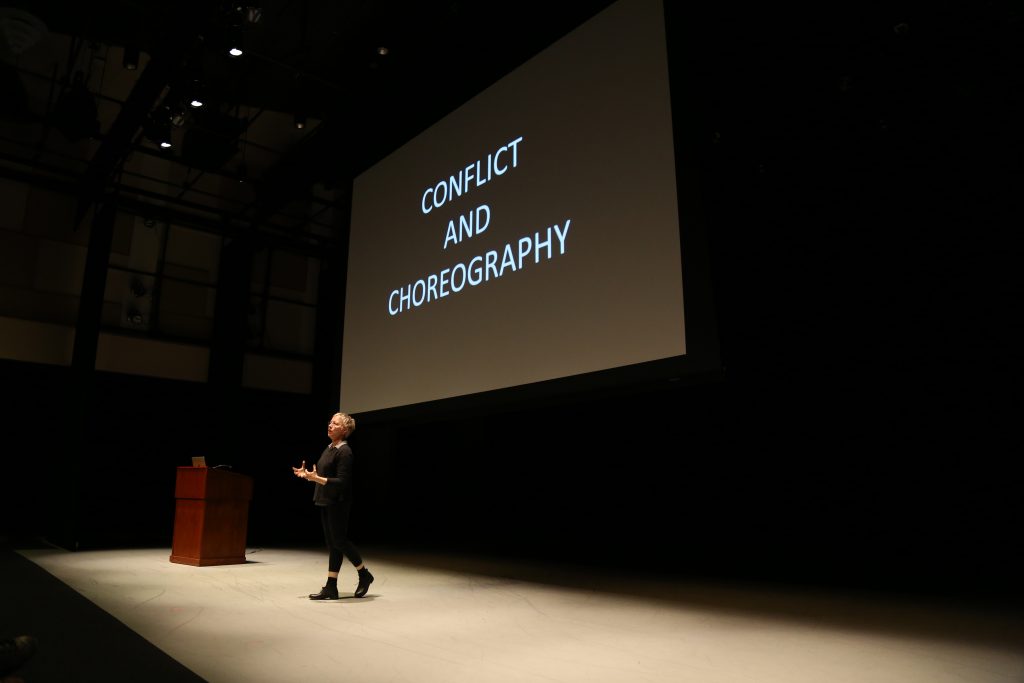 By Celine Kiner
She prefers the term "conflict engagement" to "conflict mediation." Why? "I believe conflict is necessary," Dana Caspersen told her audience on Wednesday night in our performance studio. "But we must approach it with curiosity, rather than violence. We must engage with it."
Sitting in the audience, I was aware that this wasn't the first time I had heard Dana say this in the past week. As BFA students, we were lucky enough to have a few sessions with her in our repertory and improvisation/composition classes, where we really got into some of the issues surrounding conflict, with help from her choreographic strategies. But although we had heard Dana say this before, we were still working through the concept. I looked down the row and saw the gears turning in my fellow students' brains.
Choreography in practice
As young artists using dance as our own tool to negotiate conflicts, we were conscious that Dana's point had many applications to our daily practices. Her experiences as a conflict specialist and as a creator (dancing at the Forsythe Company and Ballet Frankfurt for over 30 years) Her Wednesday night Visions & Voices lecture, A Curiously Moving Talk with Dana Caspersen, touched on movement strategies she had used to engage audiences in events around the world. In classes with her, we were actually able to participate in these activities.
Using movement to communicate our engagement with conflict and our ideas about violence was thought-provoking, rather than confrontational. It allowed us both visibility and clarity, and really helped us to see the power of movement and choreography beyond what we classify as strictly dance.
Connecting with the New Movement
Many of the exercises taught me things about my classmates that would help me navigate interactions with them, and many of them allowed us to open up and surprise each other. As a program of only 50 students, we interact closely on a daily basis, but only within certain parameters. One particular exercise allowed us to express ourselves and emulate each other through gestures that indicated happiness and the "tempo of our life," as Dana put it. This exercise created a resonating empathy–it spread over the room very quickly, and gave us a voice in a way that words could not.
Dana's use of choreography to engage with conflict really speaks to our philosophy of the New Movement, in my opinion. Her visit has been a wonderful reminder that the skills we build here apply elsewhere, not just in the dance studio, and that we all have the ability to communicate on a human level, no matter how hard we're working or how professional we're being.