Student Blog: Discover USC Kaufman from the other side
October 31, 2016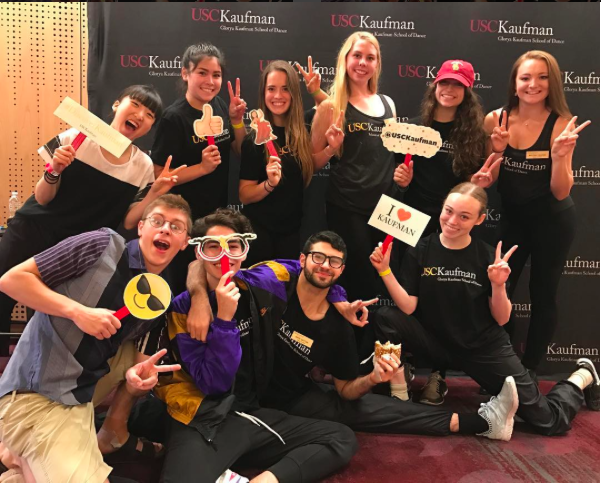 By Celine Kiner
On Sunday, our Discover USC classes were completely booked: our incredible faculty taught six master classes, each filled with students eager to learn about the New Movement. Their parents lined the hallways, peeking into the windows and touring the building. The best part? We now actually have a building to sustain a crowd like this–to host a welcoming open house, to meet prospective students, and to show them what their future at USC Kaufman could entail.
And for many of these students, a future at USC Kaufman was the first on their college list. "It's a dream," I heard one say. The dancers circled the hallways nervously, whispering and stretching for class almost an hour before their classes started. They were taking these master classes seriously.
Walking through a clump of these dancers during the morning time block, I realized that this would have been me, just about two years ago. In fact, it's exactly how I behaved at the USC Kaufman audition. College auditions, like all auditions, are intimidating, and not knowing any of the other dancers present can really put you in a bubble. I know I cowered in the corner, hoping that the splits would save me from any dirty looks that might come my way.
But Discover USC Kaufman was not an audition–it was an open house. These dancers had nothing to be worried about. With our stellar faculty and extremely capable staff, they were well taken care of. Dancers in between master classes enjoyed an assortment of complimentary snacks and t-shirts, and they took refuge from Sunday's rain underneath the chandelier in our gorgeous lobby. The atmosphere really spoke to the supportive community that envelops us here, taking the dancers in and making them feel at home. By the afternoon, the noise in the hallways had risen to a friendly buzz as the students spoke to our BFA student ambassadors and posed at the social media station for a couple of snapshots.
While of course, our lovely visitors learned more than a thing or two about technique, I'm proud to say that my fellow Kaufmans taught them what it was really like to be a part of USC Kaufman–part of a family of students, staff, and faculty that encourage a thriving dance community. We can't wait for a few of these prospective students to join us in the fall!