Student Blog: Discussing dance with Sir Matthew Bourne
September 12, 2016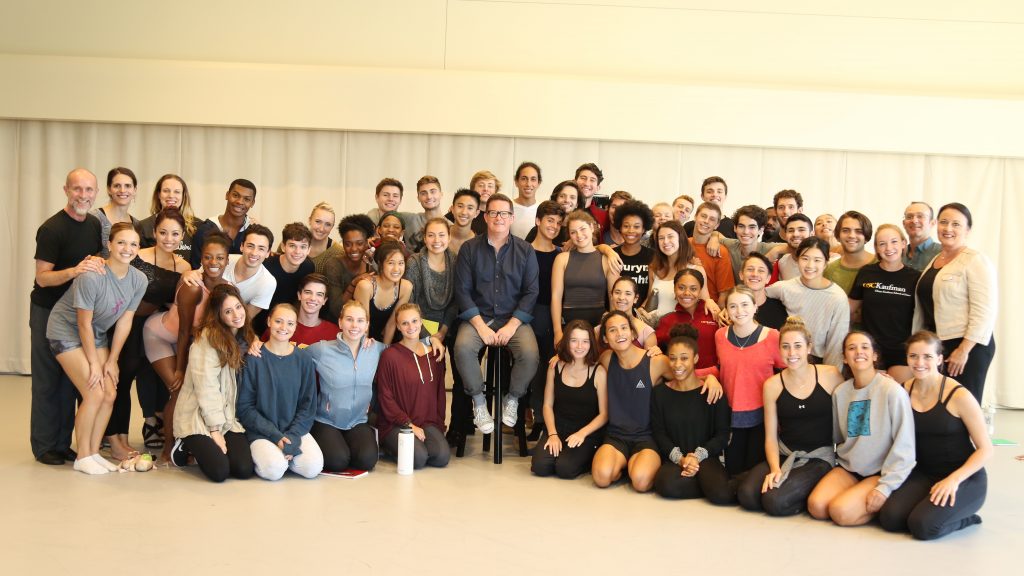 There are few moments in life where you can truly say a dream came true. While these dreams may seem surreal at the time, you are endlessly grateful for these moments. Within the past year here at USC Kaufman, every day has been surreal because another goal has been achieved or a new obstacle has been overcome. Friday, Sept. 9 was no different, as we were graced by the presence of Sir Matthew Bourne.
Bourne–the icon, revolutionary, and choreographer–sat at the front of our Turquoise studio this past Friday to see USC Kaufman perform excerpts from Forsythe's In the Middle, Cerrudo's Lickety Split, and Rhoden's Red: The Force. In all honesty, this showing is the most nervous I have been. I grew up watching Bourne's amazing narrative ballets. From the gothic Sleeping Beauty to his Tony award-winning Swan Lake, his worked never ceased to help me explore my own emotions as well as inspiring me to create meaningful work with my art. When I first begun dancing in middle school, I never would have dreamed that I'd one day perform, let alone meet the man who has revolutionized the world of ballet. USC Kaufman has made this dream a reality.
To end the performance, Vice Dean Jodie Gates headed a Q & A with Bourne and the executive director of Bourne's company, New Adventures, James Mackenzie-Blackman. The conversation seemed to be centered around Bourne's process and use of strong emotions in ballet. He not only emphasized the need for expression while we dance, but that we shouldn't fear actually usuing our face to express our emotions or help push a story line along. Dancers must also be actors, I gathered, just another facet to the hybridity USC Kaufman is teaching us today.