Student Blog: Emergence takes the stage
October 31, 2015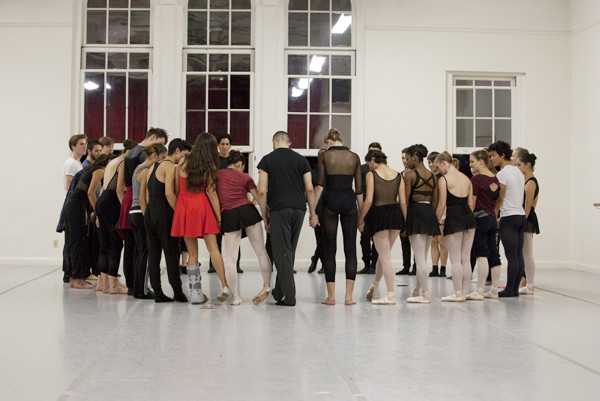 By Celine Kiner
So many things were happening at once.
Class, rehearsal, costumes, trying to fit in a decent dinner break, rolling out our muscles as much as humanly possible, warming up; suddenly, everything came to a standstill. We, the USC Kaufman BFA class of 2019, gathered into a circle in PED 207 (summoned by Professor Grimes' cypher call, of course), and we created our pre-show ritual. It wasn't consciously deemed our pre-show ritual, yet as we stood there and "passed the sickle" to the person on our right, it was clear that it was going to become one.
Our entire class was completely in sync Thursday night, as we performed our first student showcase of many. Talk amongst us afterwards confirmed that this first performance made us all realize how close we had become. Not only that, it cemented our sense of unity; we have truly become a family. Which makes sense, seeing that we have spent roughly 350 hours dancing together since the beginning of the semester. Not only did we feel like a unit, we danced as a unit–watching the pieces I wasn't dancing in evoked a sense of pride unlike anything I have ever felt. To have learned so much work in such a short time seemed an impossibly daunting task, but somehow we had accomplished it, together.
According to the faculty, these hours of work were visible in the program of Emergence, the showcase we performed which included excerpts from George Balanchine's "Serenade" and "The Four Temperaments," Paul Taylor's "Cloven Kingdom," William Forsythe's "The Questioning of Robert Scott," Marius Petipa's "Le Corsaire," and Dwight Rhoden's "RED/ The Force."
The energy was so positive and so high that it left me reeling with post-performance adrenaline long after bows. Seeing our hard work manifest in this showing was a sort of reminder that our process is valid, and that our progress is visible. To think that our pre-show chant of "Go Kaufman!" was the first of many in our four years here prompts so much eager anticipation in each of us; we can't wait to dance on.