Student Blog: Horton/Hope Boykin fusion, year two
March 13, 2017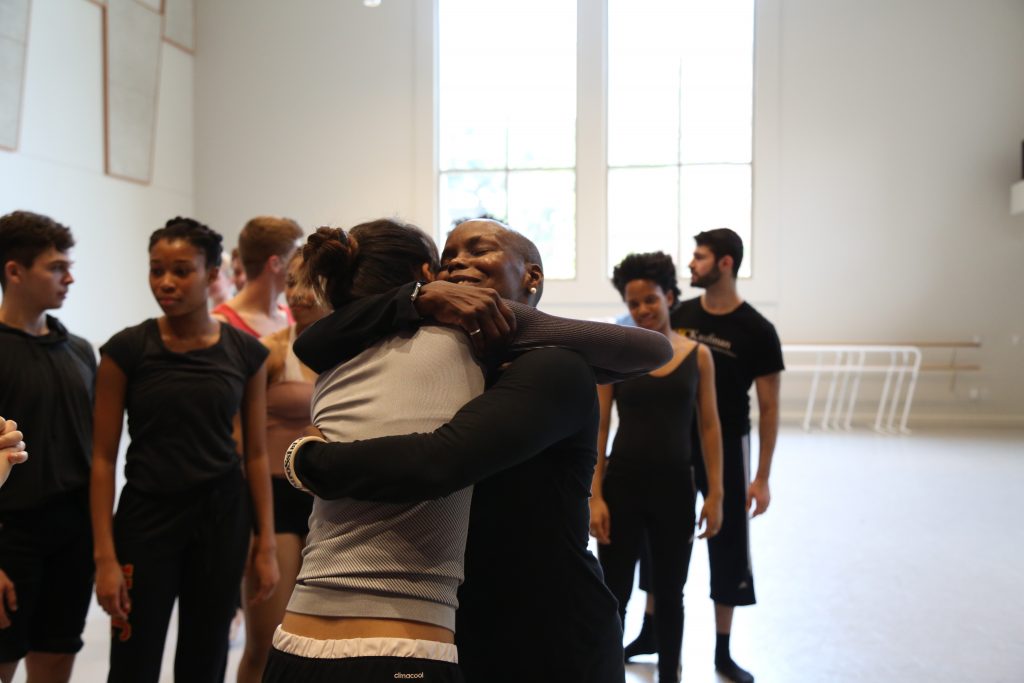 By Jake Tribus
This Friday, we were treated to a master class with Hope Boykin, a dancer and choreographer for the Alvin Ailey American Dance Theater. Hope joined the company in 2000 and has choreographed three different works for them throughout her career. This was my second time taking her class (I attended her class while touring campus last year, when she visited to teach the class of 2019), and she has yet to disappoint! The way she engages with the students creates such a loving environment–we were unafraid to mess up and move beyond our own limits.
Hope's natural teaching style is incredible–she has a way of making the class laugh while still maintaining her authority and leadership. Hope stressed the idea of "declaring yourself great." If you believe in your talent and passion for dance, she explained, no one can tell you that you are not enough.
Class with Hope consists of technique exercises inspired by the modern style developed by Lester Horton combined with the Ailey company influences. She makes sure to accommodate the strengths and weaknesses of different body types, making sure we know that there are more important pieces to an artist than long lines and turnout.
Expressive, efficient, expansive
"Short is a decision, a lifestyle," she told us, referencing her own small stature to show us that her while her height may be, her movement is not small. She moved through the choreography, extending her energy and endowing each step with unique artistry. While working through both the center and across the floor exercises, she shared her tips and techniques for making yourself as expressive, efficient, and expansive as possible while dancing. She combined technique training with phrase work in the center of the room and had multiple groups doing the same phrase in canon, facing different directions. This part of class kept everyone engaged–I really enjoyed how it had us moving together but staying aware of our surrounding space and fellow dancers.
Hope's passion for dance and message of self-confidence inspired the room and left us on such a positive note for spring break–we can't wait to come back and keep working toward perfecting our craft.