Student Blog: An individual, not just one of many
July 31, 2017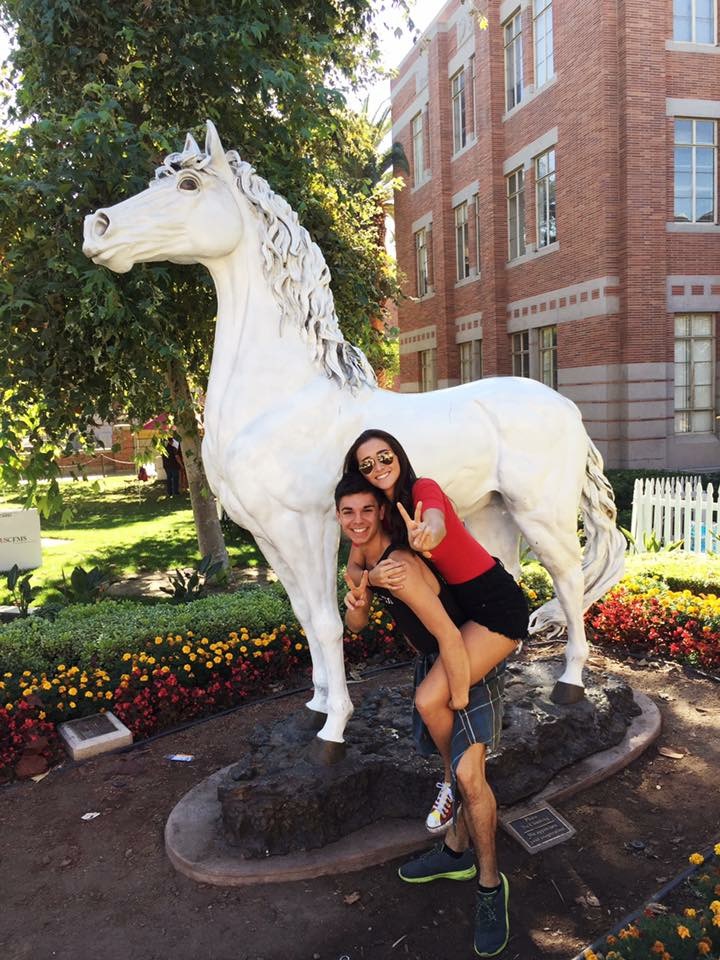 Deciding which college to attend was one of the hardest decisions I have made to date, but as each day ends, I am thankful to attend USC Kaufman. USC Kaufman is the most progressive and unique dance program in the country today, and maybe even the world. From our repertory to our artistic guests, USC Kaufman will give you incredible training and simultaneously enable you to expand your résumé. USC Kaufman gives its students once-in-a-lifetime experiences that most professional dancers may never even experience. But the best part is that I am an individual, not just one of many.
Making each role my own
No other program in the world gives you the opportunity to perform Kylian, Balanchine, Graham, Forsythe, Rhoden, and Cerrudo repertory all in one show. USC is unique in that students can be cast in more than one masterwork per show. Unlike other programs that may restrict its students to one piece per semester or only student choreography pieces, USC allows us to do it all. In choosing between schools, this came to be a deciding factor. I did not want to be restricted to one piece or choreographer, I wanted to be able to network and expand my knowledge of dance. In my freshman year alone, I was able to perform with Hubbard Street 2, the Martha Graham Company, and Bill T. Jones's company.
Putting names to faces
Not only does my résumé double every year, but so does my network. One of the most amazing parts of USC is that every faculty member and artist-in-residence knows your name. This may sound simple ,but it is a "luxury" that gets thrown away in the world of dance. At studios, auditions, and even some college programs, you are not called by your name. Dancers are usually called by their number or the color of the shirt they're wearing. Not at USC. Each student is given a different faculty mentor and student mentor every year. At USC, students are introduced into an amazingly safe community, where both students and faculty members root for your success.
Experienced professional faculty
The biggest factor in choosing which college to attend was faculty. USC Kaufman has an unparalleled faculty. Every single professor at USC has had a lengthy career in different areas of dance. Our faculty is well experienced in dance academia, commercial dance, choreography for film and stage, concert dance, and so much more. However, the best thing is that they are all still working. Our professors choreograph and set works on companies all over the globe: Miami City Ballet, San Francisco Ballet, Paris Opera Ballet, Boston Ballet, Houston Ballet, Hubbard Street Dance Chicago, Ballet Jazz Montreal, Ballet BC, and the list goes on. Many masterworks were originated on them during their dance careers at the Joffrey Ballet, Netherlands Dans Theater, the Paul Taylor Dance Company, Rennie Harris Puremovement, and more. On top of being the best in field, they also care about each and every student here at USC. Unlike other programs or companies, the faculty treats every student as an individual. They understand that we have different learning methods and different career goals, and push all of us to be our best.
Shaping and supporting the New Movement
In all, USC Kaufman is unique in every shape and form. Every day, they are developing a new model for dance training, creating intellectual hybrid artists. They strive to create choreographers, commercial dancers, concert dancers, dance academics, and everything in between. USC has given its students ability to explore the world beyond dance, allowing us to minor in any field of study here at USC.
USC Kaufman is a family. Through thick or thin, I have a family behind me to fall on for support, guidance, or to bring me joy. In just two years I have had incredible and unique experiences. I love USC Kaufman and the family we have established here, and I can't wait for what new experiences, adventures, and family members are to come.