Student Blog: Inside Tiler Peck's brilliant movement process
November 7, 2015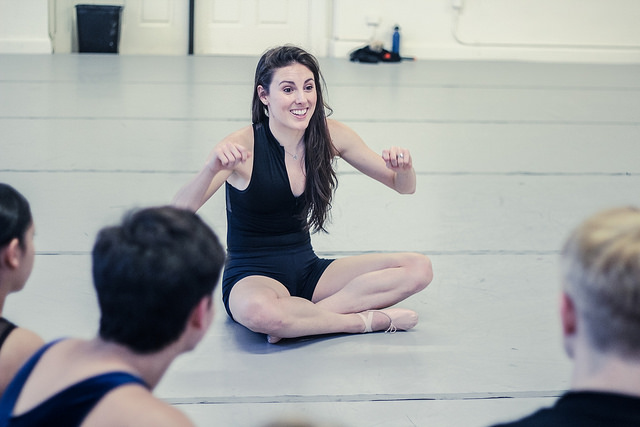 By Celine Kiner
Tiler Peck is barely more than five feet tall. Upon her arrival in our studio in PED 207, of course we were starstruck by her presence. Of course a series of gasps burst out at first sight of her, and of course we automatically assumed our best ballet positions when she took her place at the barre to begin teaching. But the most shocking thing about her presence was her being barely more than five feet tall. We had all done our research quite extensively on Ms. Peck; just the night before, my roommates and I had watched her in the documentary Ballet 422, which is centered around the creation of a New York City Ballet piece. Her beautiful and extensive movement quality seemed to have fooled us. We had all believed she would be tall, but instead she was just an inch taller than our shortest dancer.
During class, she corrected little things, things that should have seemed obvious to us. Yet applying her corrections made all the difference: using resistance with our fingers, keeping our toes connected as we drew up to passé, remembering our turnout. They added a sophistication to our dancing, improving the quality of movement rather than just the lines or the shapes. She smiled her beautiful winning smile the entire time, with a genuine excitement about sharing ballet with us.
Following class, she talked us through the Tchaikovsky Pas de Deux female variation, which was choreographed by Balanchine himself. As she went through the steps, she explained her inner dialogue, the thoughts and intention behind each movement. At the end, she graciously performed the variation for us. What stood out most to me was her musicality, especially as she danced in perfect sync with our accompanist. She told us that she liked to arrive as quickly as she could so that she had more time to manipulate the music: "it's like playing a game with myself," she added. She also noted that there was no predicting how the composer would play the music on stage with the New York City Ballet. Some nights it would be double time, and other nights it would be uncomfortably slow, but the dancers were expected to dance with the music, and not the other way around.
In a closing Q&A session, Ms. Peck answered a few of our questions about her own background in dance. Her competition background gave her a well-rounded training base–for her exceptional musicality and her unique sense of attack, she credits her love for jazz (ballet was too boring). "As long as I'm not in a tutu, then I'm fine. Then I'm right at home," she laughed. Dancing classics like Sleeping Beauty makes her most nervous, dancing the newer contemporary ballet pieces most at ease.
Tiler Peck is not your typical ballerina. She loves anything but a frilly pink tutu, and she excels in things that require floorwork and attack. Her willingness to take risks is empowering, to say the least (after all, she has been a part of New York City Ballet for the last 11 years, and she's only 26 years old), and it makes one wonder what they can do to stand out as she does, to shine amongst the rest of the dancers that are just as good, if not better.
Tiler Peck is barely more than five feet tall, but she dances longer, she's "always reaching further, always jumping higher," and her unwavering commitment sets her apart. It would not be a stretch to say that as the versatile dancer who brings everything she knows to the table, she is helping us define the New Movement.