Student Blog: Onstage with Jon Boogz
November 13, 2017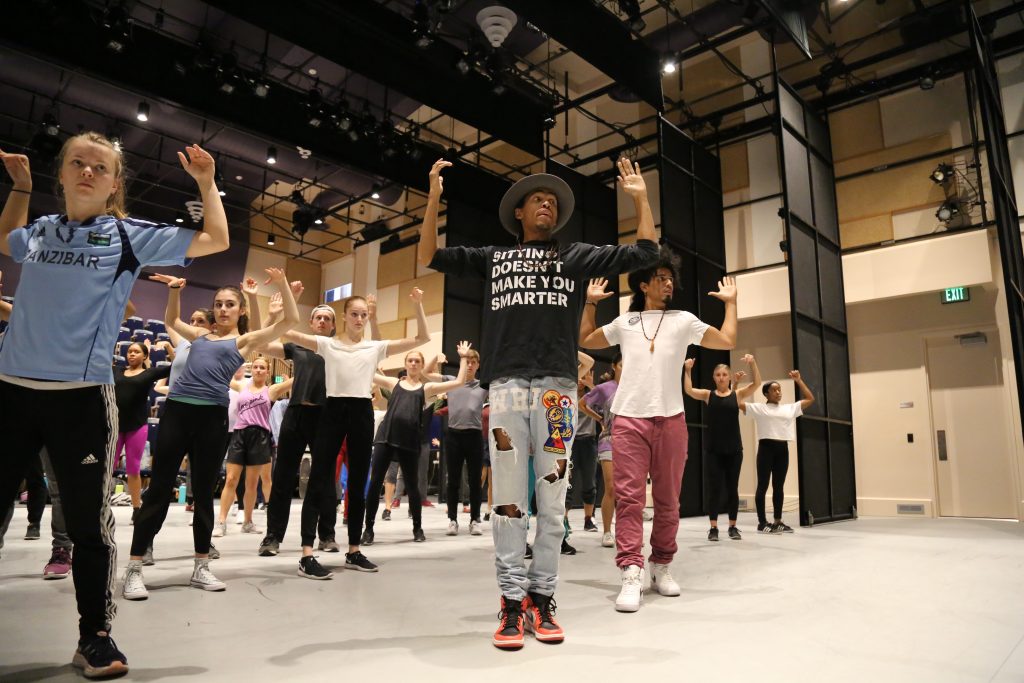 Last month, all three classes of USC Kaufman BFAs had the opportunity to work with movement artist Jon Boogz. This was a particularly amazing experience for me because Jon Boogz's movement vocabulary is based in popping, a West Coast Funk style that I have trained in for the last ten years. Over the course of the two days that Boogz visited USC, he taught a popping master class as well as a three-part piece that we performed on the second day, in a Visions and Voices event titled "Making Movements: Dance and Social Change."
Sharing the spotlight with classmates
The first part of the piece included 32 dance majors dancing Jon Boogz' popping choreography to a recorded spoken word piece. The second section was danced to another recorded spoken word piece by the same artist, but included four soloists improvising to different sections of the piece. I was honored to be one of these soloists, and enjoyed using my knowledge of popping to express the words of the poet through movement. The final section was a live cypher in which all three BFA classes shared their passion for dance with each other and with the audience.
Meaning in the movement
I had a great time learning popping technique and choreography from Jon Boogz, but the two days were made more impactful by Boogz' interest in using dance as a platform for social change. The messages of the spoken word soundtrack advocated for unity, peace and love among all people and Boogz' choreography reflected these interests. The connection of dance to social activism was very impactful for me because I am involved in both realms and have been looking for an effective way to blend the two areas. Thanks to Boogz' teachings from his brief visit, I look forward to using my own dancing and choreography to inspire social change in the very near future.