Student Blog: Our first student-run show
April 23, 2018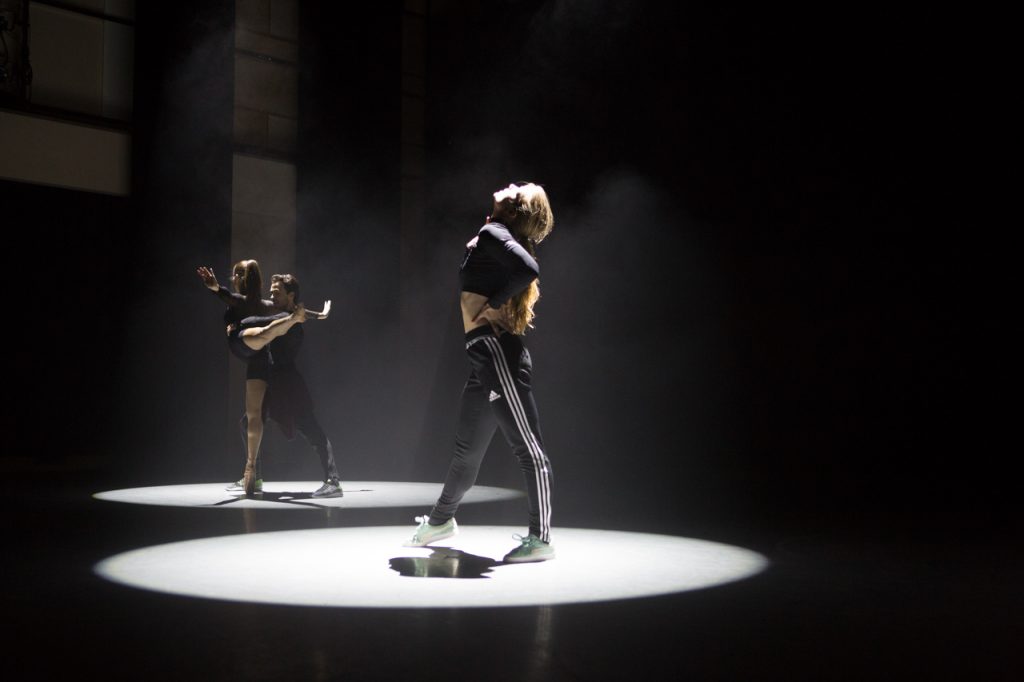 On Saturday, April 14, a large part of the USC Kaufman junior class came together to showcase our very first student-run production. As juniors, and part of the first class, we felt that we needed to come up with something that was going to prepare us for the real world, something that would give us the experience to bridge the gap between being students and employable professionals. Rachel, Alvaro, Megan and I discussed multiple ideas with vice dean Gates and our classmates, and ultimately decided to come up with a student-run organization that would help produce this kind of show–that is how the SC Choreographic Collective came to be.
The professional process
To make this process similar to a professional one, we had choreographers submit ideas for potential pieces they would perform, along with small clips of them workshopping and dancing these pieces. A group of student curators agreed on choreography that they believed would be a good fit for the show. Once the pieces were selected, auditions were held among the junior class, so every dancer would get a chance to be seen and casted by the choreographers. After everyone was cast, we had a couple months to start organizing and fundraising for our very first show. Through this process, we all realized how much goes into putting a successful show together. We needed a treasurer, fundraiser, marketing director, stage manager, light designer, audio engineer, photographer, and videographer. Alvaro took over the treasurer position, and other classmates joined to help with other positions in marketing and photography.
At the end of the day, we wanted to make sure that most of these positions were filled by students, so the purpose of getting an experience behind the scenes would be fulfilled and it would be a real student-run production. Through other collaborations we had done, we got to meet other students who were willing to step in and help make this show come together.
Producing our own show
Amid everything else we had going through the semester, we all came together and were able to showcase our work. I had personally not seen any of the other choreographers' pieces until the dress rehearsal, the day of the show. It was incredibly inspiring to see how my classmates took risks by choreographing and performing in ways I had never seen them do in the classroom. For me, the SC Choreographic Collective served as a platform to explore and take risks choreographically. After performing in the show, and watching everyone else, I felt the mission behind this organization had been accomplished. I only hope the SC Choreographic Collective can keep expanding by welcoming the incoming Junior class next year, and by collaborating with other disciplines like composers or actors to keep exploring different ideas of choreography both inside and outside the Kaufman studios.