Student Blog: Paul Taylor and Patrick Corbin for Company B
October 16, 2017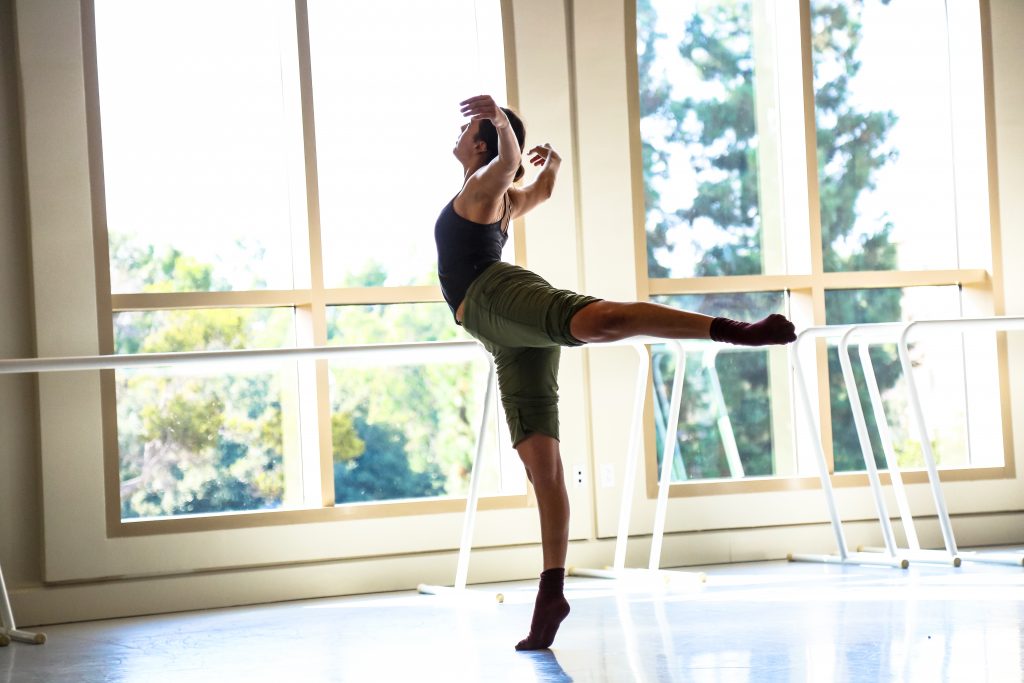 By Sophia Oddi
Since arriving back at USC Kaufman for the fall semester, my peers and I have had the privilege of learning excerpts of on one of Paul Taylor's seminal works: Company B.
About the work
Set to the mesmerizing voices of the Andrews Sisters, the piece is placed against the backdrop of the 1940s as America deals with romance, loss, patriotism, and mortality in the midst of WWII. As core faculty member Professor Corbin–who set the piece on us after performing it during his 20 years in the Paul Taylor Dance Company–shared with his students, Paul Taylor was widely known for creating two pieces each year; one more lighthearted, and the other of more austere subject matter. This particular work was therefore unorthodox in its ability to combine fun and light choreography with a grave underlying theme. In one excerpt, Paul Taylor introduces us to the Bugle Boy of Company B, who performs a long, energetic, and exciting solo only to be shot dead as he exits the stage. In another piece, Taylor presents a touching duet between a man and a woman, only for the spectator to eventually deduce that the man she has been dancing with is in actuality off to war. The polarity within each piece makes Company B a contemporaneously entertaining and poignant work of dance.
Prof. Corbin's rehearsal environment
Working with Professor Corbin has been an incredible experience. Whether offering up personalized notes or pulling out multiple chocolate bars when energy levels are low in late Friday evening rehearsals, his constant encouragement never ceases to create an educational and stimulating environment. Pushing us to delve deeply into each character we portray, Professor Corbin has facilitated a safe space for each one of us to envision our place as movers in a work that speaks to a very dark time in history; specifically through the lens of American individuals left to continue on with their lives as loved ones have been swept away by the draft. Accompanied by an incredible sense of humor and high expectations for his students, Professor Corbin has enabled Paul Taylor's work to come to life in a way that commands respect and pride from each one of us. This experience has been nothing short of awe-inspiring.
With the help of a recording of Paul Taylor's original cast of Company B, which includes Professor Corbin himself, we have spent the past couple of weeks recreating the nuances of each excerpt. Mr. Taylor drew from many of his earlier works to generate movement that eventually became intertwined with movement reminiscent of 1940s lindy-hop and other such vernacular jazz dances. The piece still retains its integrity as a Taylor work, with continuous employment of Taylor technique and choreographic Taylor archetypes. Add the Andrews Sisters into the mix, and Company B stands as a provocative and exhilarating work that will leave viewers both amused and contemplative.