Student Blog: Quijada and RUBBERBANDance at Bovard Auditorium
March 26, 2018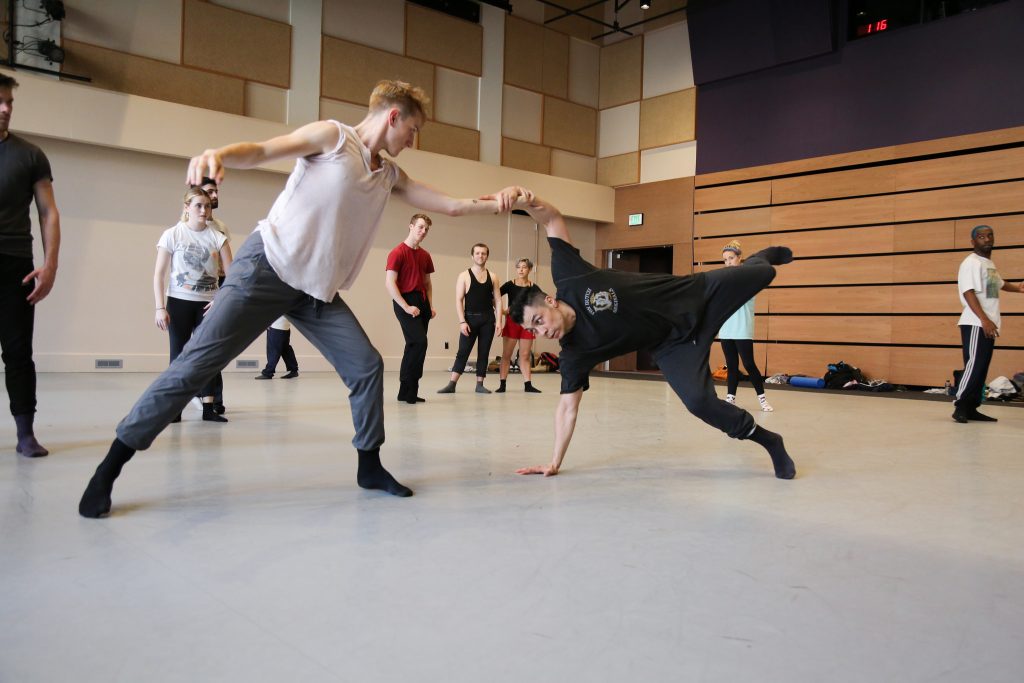 At USC Kaufman, we are fortunate to have the opportunity to train closely with artist in residence Victor Quijada, where he teaches us his RUBBERBAND method, developed with his diverse background of breaking, hip hop, classical, and contemporary styles. After working with him for a month at the start of the semester, we actually got to see Quijada's method translated onto the stage when his Montreal-based company, RUBBERBANDance Group, performed in a USC Visions & Voices concert in Bovard Auditorium.
Vic's Mix onstage
The show was phenomenal. Each of the seven dancers stood out with their own individuality, in addition to the incredible stylized movement qualities that the RUBBERBAND method provides. The company performed Vic's Mix, which was an evening that consisted of several of Quijada's works, both early and recent. It was interesting to see how his choreography had evolved over time, and to see his use of hybridity through merging different styles. The women lifted other dancers just as much as the men did, erasing existing gender stereotypes. Quijada's musical choices–all classical works from composers like Sergei Prokofiev and Jasper Gahunia–also helped make the program extraordinarily unique. There were both humorous and serious moments throughout the performance, and the entire production was brilliantly crafted and curated.
Applying the technique
Watching Vic's Mix was especially exciting for me because I had actually learned some of the repertory when attending the RUBBERBAND summer intensive at Domaine Forget in Quebec this past summer. I was really inspired by working with Victor my freshman year at Kaufman and a few times before that, so I went to his summer intensive to dive into the technique even further and continue to push myself out of my comfort zone. At Domaine Forget, we got to work with many of the company members as well, so it was really fascinating to see them perform the choreography and technique they had been teaching us. We did a lot of partnering work at the intensive, which I found beneficial especially after watching the show; partnering was an impressive element in Vic's Mix, where the dancers made the most difficult choreography seem effortless.
The culmination of my training with Quijada in the RUBBERBAND method and the visuals of Vic's Mix made me all the more excited to see him return for his residency next spring–I can't wait to learn more RUBBERBAND repertory.